Can a corrupted SD card be recovered?
SD cards provide storage space with high speed, and they are compatible with many digital products, such as, Android phones, digital cameras, mp3 players, camcorders and more. Simply put, SD cards play an important role in this digital world. However, an SD card is not free from errors or corruption. Many of us may have experience the trouble brought by a corrupted SD card.
What happens if an SD card is corrupted? Generally, all files on the corrupted card are lost, as corrupted SD card cannot be opened anymore. Moreover, the file system of a corrupted SD card is no longer readable, as it may become RAW. Can a corrupted SD card be recovered? Yes, corrupted SD card is achievable if the SD card is not badly damaged. In order to successfully recover SD card data, pay attention to these points:
Do NOT format the SD card: If you want to keep any data on the corrupted SD card, do not try formatting it.
Turn off the device before taking out the SD card: You should turn off the device such as Android phone first and then remove the SD card.
Use a card reader connect the SD card to a computer which runs Windows 10, Windows 8 or Windows 7.
How to get data from corrupted SD card in Windows 10/8/7?
Whatever the reasons behind the corrupted SD card, the first thing you should always do is recovering files from the SD card. The recovery task can be done easily with the help of SD card data recovery software like DiskGenius. Following content is the step-by-step guide of getting back lost data from corrupted SD card in Windows 10.
Step 1. Free download, install and launch DiskGenius on your Windows computer. Then connect the corrupted SD card via a card reader.
Step 2. Right-click the corrupted SD card where you want to recover data and choose "Recover Lost Files".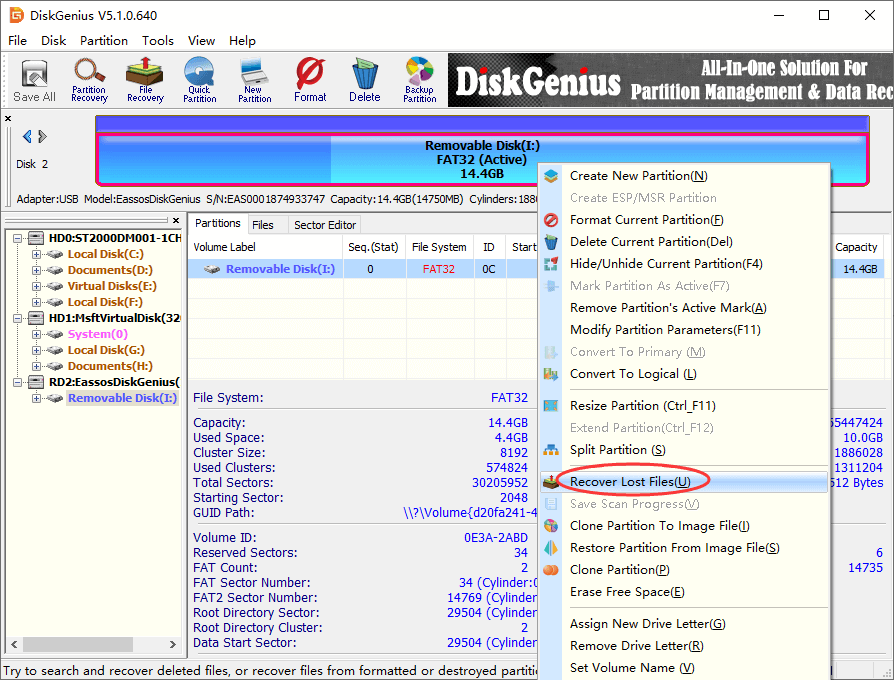 Step 3. Click "Start" button to run a full and deep scanning on the SD card.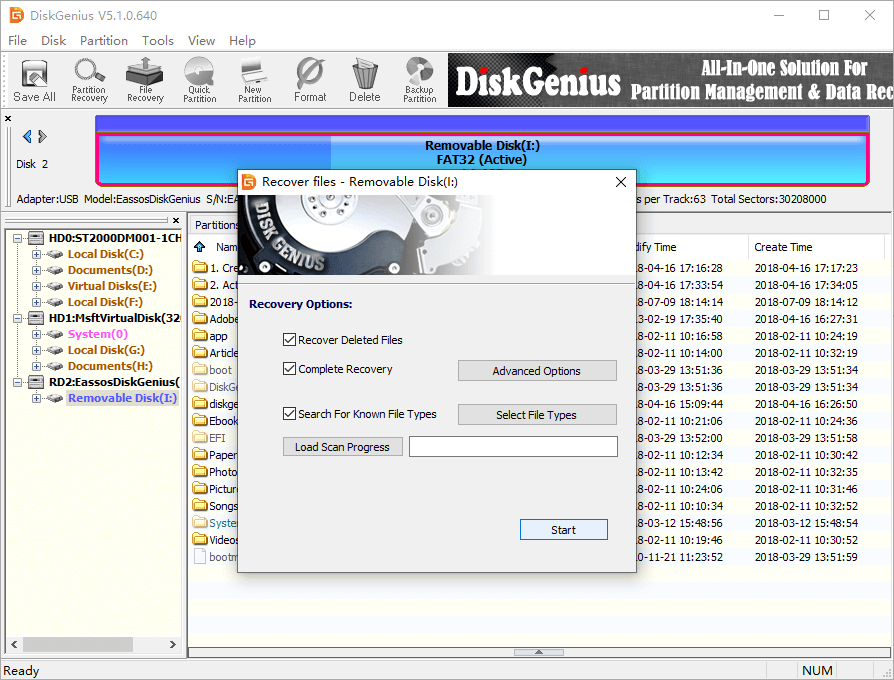 Step 4. Preview files after scanning finishes. Double-click a file in the software, and you can view content on a pop-up window. The preview is an efficient way to judge whether the file can be recovered correctly in the end.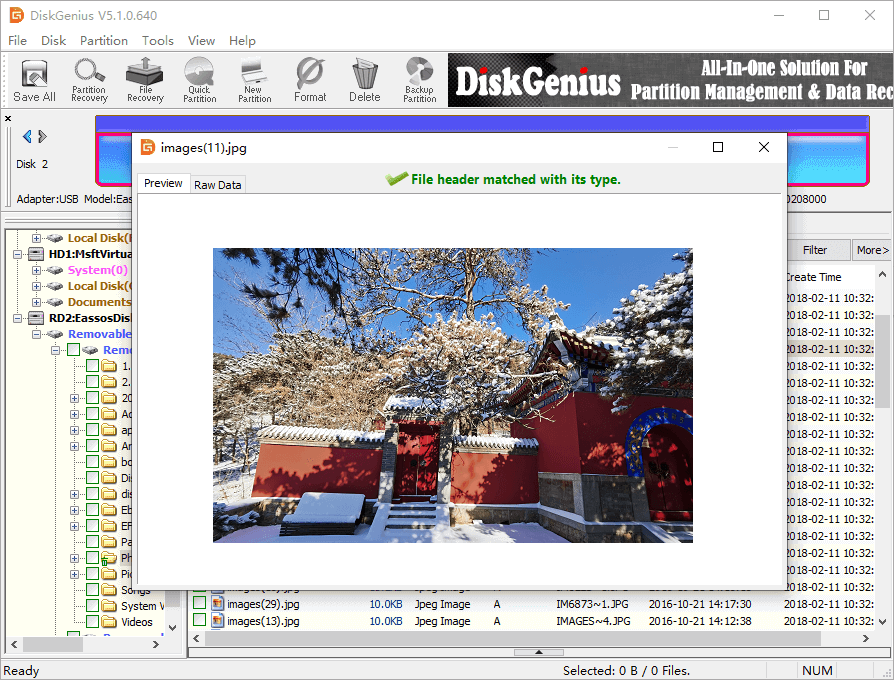 Step 5. Select files and folders you wish to restore and copy them to a safe location.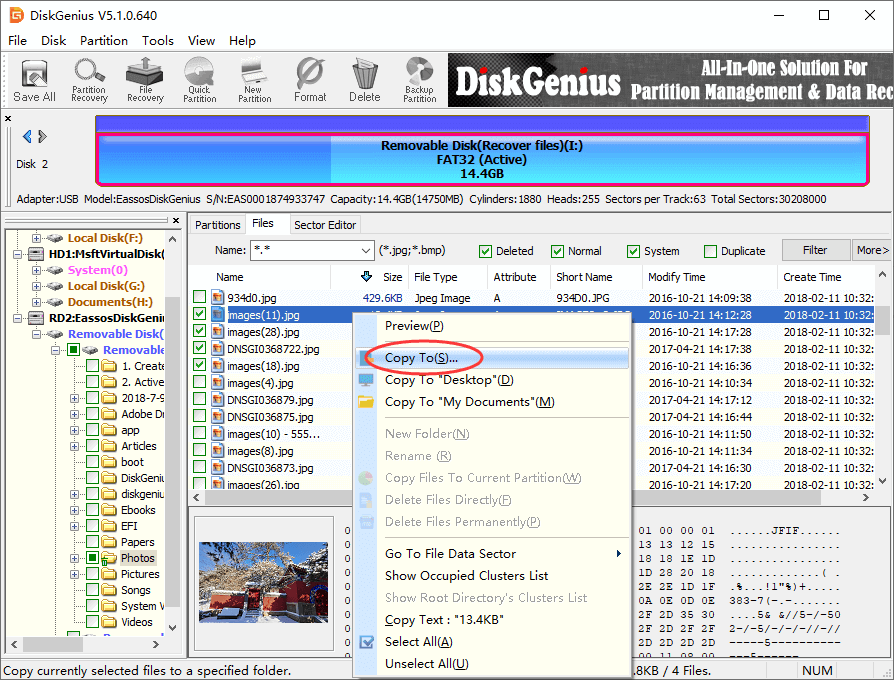 Corrupted SD card recovery software free download
SD card recovery software is the very tool you need to install when you want to get lost files from corrupted SD card. Here are two options for the task:
DiskGenius is handy data recovery software, and it works extremely well in recovering data from corrupted, RAW or formatted drives, including memory cards, hard drives, USB flash drives, external hard drives, virtual disks, RAID disks and so on. In addition to data recovery, DiskGenius also supports to manage disk and partition, clone disk, migrate Windows 10 to SSD, wipe hard drive, etc.
Eassos Recovery Free is free data recovery software. It has a paid version, and yet this free version is good enough to recover data from common data loss situations for free. The scanning of corrupted SD card and previewing lost data is free of charge. What's more, you can copy up to 1GB lost data for free.
Why does my SD card keep getting corrupted?
All data storage devices are vulnerable to physical damages, and it is reasonable that an SD card may get corrupted due to several reasons. Here lists common reasons:
Improper usage: Install or remove SD card without turning off your device or remove it from computer without clicking the Safely Remove Hardware and Eject Media.
Bad sectors: An SD card will develop bad sectors over time, which is similar to hard drives.
Malware and virus.
Hardware failure: Old or low-quality memory card tend to be physically damages.
You may also ask
1. How can I recover data from corrupted memory card in Android?
When the memory card in your Android device gets corrupted, you can attempt memory card data recovery using Eassos Recovery Free or DiskGenius. Before recovery, you need to connect the Android device to a Windows computer or connect the memory card to computer via a card reader. Make sure the memory card showing up in Disk Management.
2. How can I fix a corrupted SD card without a computer?
When a computer is at hand to fix corrupted SD card, there are very few solutions you can try. For example, formatting will be the only solution to fix a corrupted drive on an Android device. Important files should be backed up before formatting.
3. How to recover photos from corrupted SD card free?
Free data recovery software is needed in order to recover photos from corrupted SD card free of charge. Here is the recovery process:
Step 1. Install and launch Eassos Recovery Free from your PC.
Step 2. Select a recovery mode to scan the SD card.
Step 3. Preview photos and copy them to a secure location.
4. How can I fix corrupted SD card?
The first step of repairing a corrupted SD card is recovering data from the SD card, for any repairing solution may cause further damage to lost data. DiskGenius is effective recovery software and supports to recover SD card. After SD card recovery, then refer to this guide to fix SD card: How to Uncorrupt an SD card? | 8 Solutions to Fix Corrupted SD Card
5. How can I recover data from corrupted memory card without formatting?
To perform corrupted memory card recovery, you need to prepare a Windows computer and an effective memory card recovery program. For detailed steps of recovering corrupted memory card data, refer to: How To Recover Data from Corrupted Memory Card Without Formatting?
To Conclude
This article mainly talks about corrupted SD card and provides a step-by-step guide regarding how to get data from corrupted SD card. We hope information presented in this page can help you deal with SD card data recovery with ease.
A corrupted SD card does not mean the permanent loss of files, as lost files can be recovered by an effective data recovery program. For all this, the best way to fix and avoid corrupted memory card is to create backups regularly.
Related Links