As a portable storage device with large storage capacity and convenient operation, external hard drive is widely used now. The external hard drive stores a large amount of important data, and when something goes wrong, it can be a nightmare. It is a small matter to change the external hard drive, but the loss of data is more frustrating. In the process of using the external hard drive, due to the user's temporary carelessness, it is often easy to cause the drive damage. Next, we will briefly describe the possible problems of external hard drive and introduce specific solutions.
The symptoms of external hard drive failure are generally as follows
There are many causes for disk data loss. Before introducing the methods for restoring disk data, you can learn about the common causes of data loss.
The external hard drive does not respond or makes abnormal noise.
The external hard drive prompts that you need to format the disk in drive before you can use it.
The system prompts that the file or directory is corrupted and unreadable.
Data loss in external hard drive.
The computer cannot recognize the external hard drive, or the file system becomes RAW.
The external hard drive partition suddenly disappears and becomes unallocated.
Causes of external hard drive corruption
In fact, there are many reasons why your external hard drive may be damaged. Here are some of the most common reasons:
File system error
Outdated or corrupted drivers
Different types of error messages pointing to external hard drive problems
Malware infection
Improper use of an external hard drive, such as connecting and disconnecting it from a computer
There are too many bad tracks on the hard drive
After understanding the reasons for the failure / damage of the external hard drive, you may have the question "can the data be recovered if the external hard drive is corrupted". In fact, if the external hard drive is not seriously damaged and the external hard drive is found to be logically corrupted, stop storing new data, then the data may still be recovered. You can try to use professional data recovery software to scan and recover the data, and then repair the external hard drive. However, it should be noted that data recovery is a remedial measure. It may not be possible to recover data successfully when the external hard drive components are physically damaged, or the data is overwritten. Therefore, it is best to back up the external hard drive data regularly to avoid the loss of important data.
How to uncorrupt an external hard drive without losing data?
First, restore the data in the external hard drive
As long as the external hard drive is not physically damaged, you have a good chance of recovering lost files. For a successful external hard drive recovery, you should neither format the external hard drive nor attempt any other fixes. To recover data from a damaged, RAW, or crashed hard drive, you need to use external hard drive recovery software.
DiskGenius is the most recommended software for recovering corrupted drives. It can efficiently retrieve files from corrupted, inaccessible and RAW drives, and it supports data recovery from FAT32, NTFS, exFAT, EXT4, EXT3 and EXT2 drives on Windows 11/10/8/7, Windows PE and Windows Server.
Step 1. Download and run the latest version of the DiskGenius, select the corrupted external hard drive, and click Tools > Load Current Partition Intelligently.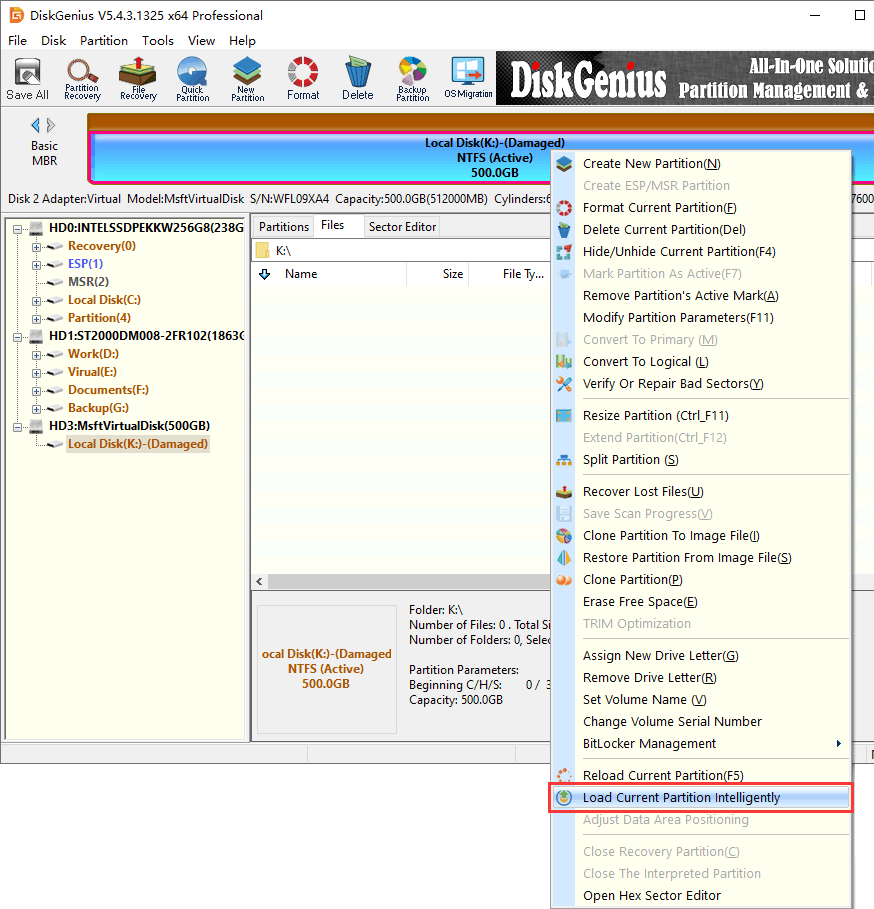 Step 2. If the data you need cannot be found in the step 1, select the drive again and click File Recovery > Start.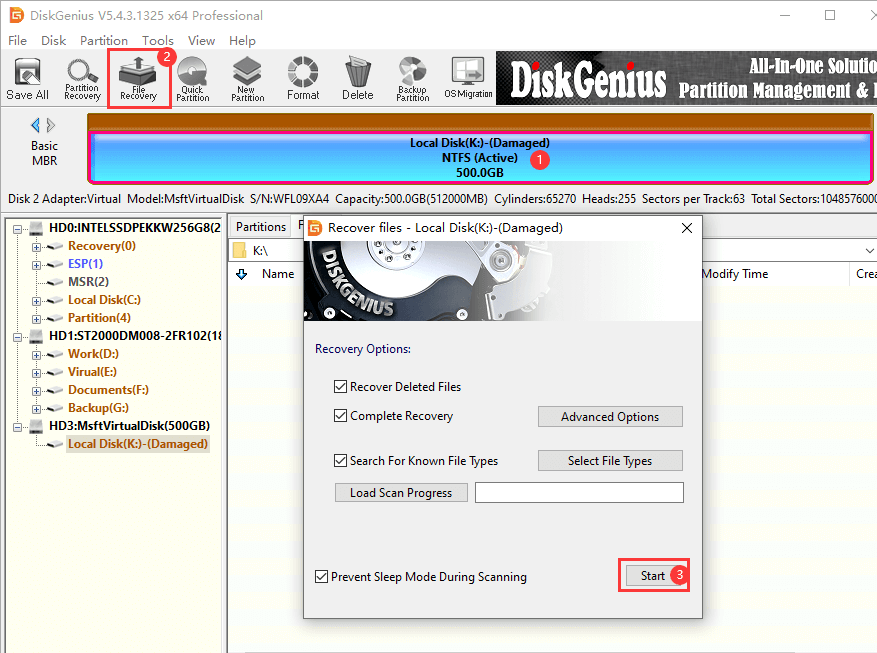 DiskGenius will start the scanning process.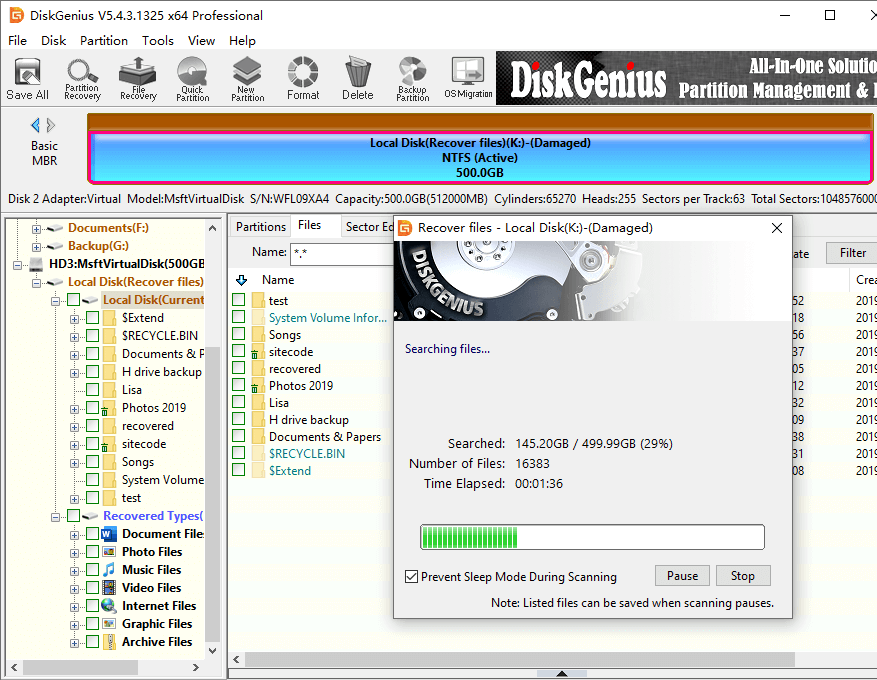 Step 3. Click to see if the files listed after the scan can be previewed properly.
Step 4. Copy the files that need to be recovered.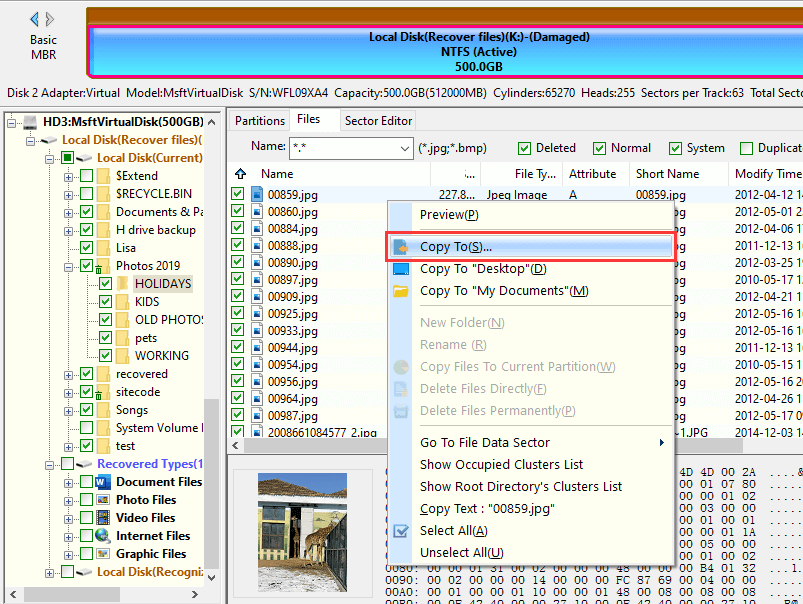 Then, repair corrupted external hard drive
Method 1: Format the corrupted drive to NTFS/FAT32/EXT4
Step 1. Right click the corrupted drive in DiskGenius and click Format Current Partition.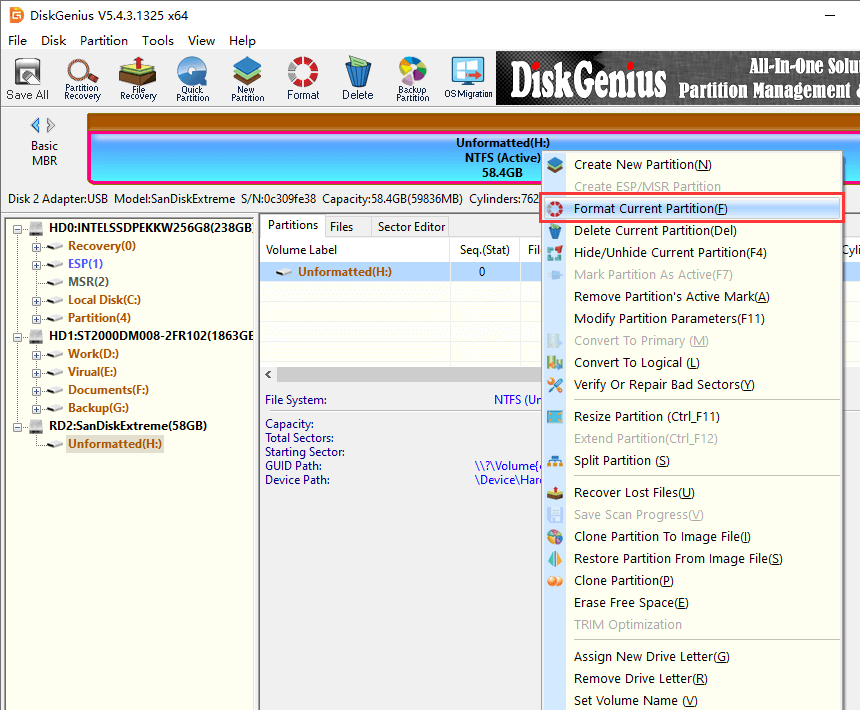 Step 2. Select a file system type from the drop-down list and click Format.
Method 2: Detect and repair bad sectors
Step 1. Select the corrupted drive and click Disk > Verify Or Repair Bad Sectors.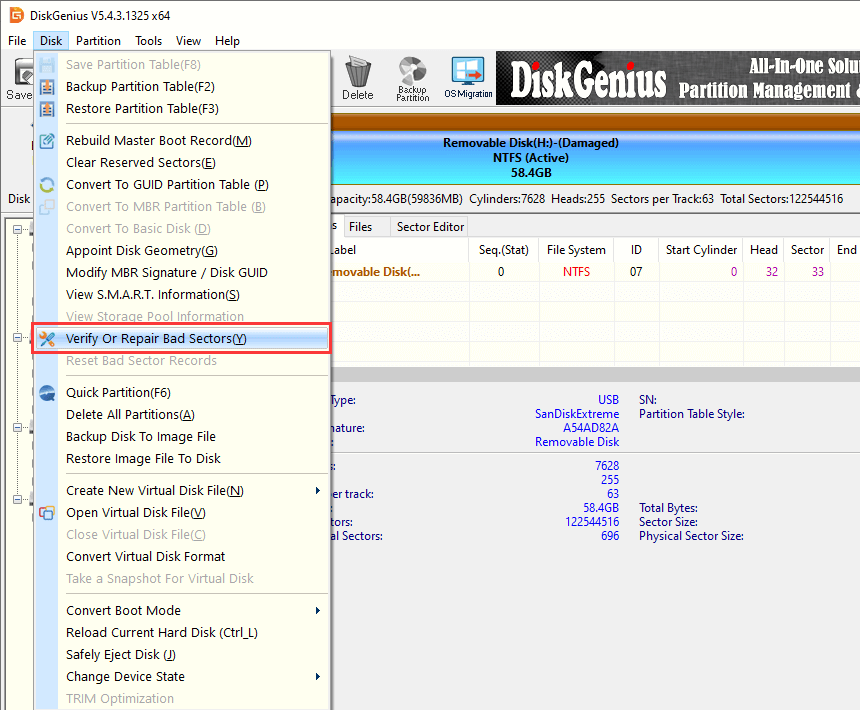 Step2. Click the Start Verify button, and DiskGenius will start detecting if there are bad sectors on the drive. If there are bad sectors after scanning finishes, click Repair to try repairing them.
How to keep your external hard drive healthy?
Almost everyone has an external hard drive for storing important files and personal data. To use external hard drives properly, you should have some proprietary skills necessary to keep your storage device healthy and thus extend its life. Therefore, we think you should adapt to the following three habits in your life.
1. Daily data backup
You can back up entire external hard drive data, a partition, user files, or even an operating system. This is the most reliable way to try all hard drive recovery opportunities without worrying about data loss.
2. Regular disk cleaning and system optimization
Delete junk files, useless and very large files, and system / browser cache files that take up valuable disk space to avoid the risk of computer slowing down. Use simple disk cleanup to improve hard disk performance.
In addition, the longer the machine is used in a fixed position, more dust and debris will accumulate in the air, resulting in overheating and failure of the hard disk. You can wash your external hard drive with a small piece of cotton cloth stained with alcohol. It's also good to use cotton swabs in the inside.
3. Use power saving and sleep mode
Although some big brands can guarantee longer service life, you should admit that the shorter your drive runs, the longer it will last. Therefore, please turn off the external hard drive when you are not using it.
The Bottom Line
External hard drive corruption is a frustrating thing, but this article shows you how to uncorrupt an external hard drive without losing data. In order to ensure the security of data, be sure to recover the data before repairing the external hard drive. I hope you can completely deal with this corrupted external hard drive problem. Finally, if you have other questions or opinions on drive damage repair or hard drive data recovery, please feel free to contact us.
More on this topic