Table of Contents:
Is there any way to recover permanently deleted videos from computer?
"Hi, I got a problem with my laptop. I was viewing videos of my kids and I accidently deleted a folder which contains around 4GB files. Most deleted files of this folder are videos. I checked the Recycle Bin, but they were not there. It seems that videos were permanently deleted from my laptop. Do you have any clue to recover permanently deleted video files on my computer which runs Windows 10 home? Thank you!"
People often wonder if it's possible to recover permanently deleted videos from a PC or SD card. In most cases, the answer is yes. When files are deleted, they are not immediately erased from the computer's hard drive or the sectors where the videos are stored. Instead, the file system simply removes the file entries. As long as there hasn't been any data overwrite since the deletion, there is a good chance that the deleted video files can be recovered with simple steps. That's why it is crucial to avoid using the PC's hard drive if you want to increase the chances of successful recovery.
When it comes to methods of recovering deleted videos from PC hard drives, SD cards, Android phones, iPhones, etc., there are a couple of methods you can try, for example, restore deleted files from Recycle Bin, retrieve files from backups, use video file recovery freeware, etc. Let's take a quick look at commonly used recovery methods:
Method 1: Restore deleted videos from computer Recycle Bin
It makes things simple and easy if files can be found in Recycle Bin. Files are not regarded as permanently deleted if they are listed in Recycle Bin from which deleted files can be restored to their original location easily. Therefore, the first step of recovering deleted data is checking Recycle Bin.
Step 1: Open Recycle Bin via double-clicking its icon on desktop.
Step 2: Locate deleted videos you want to restore. You can sort files by date deleted, type, name, original location to quick find out wanted files.
Step 3: Select files you want to restore, right-click them and choose Restore from context menu.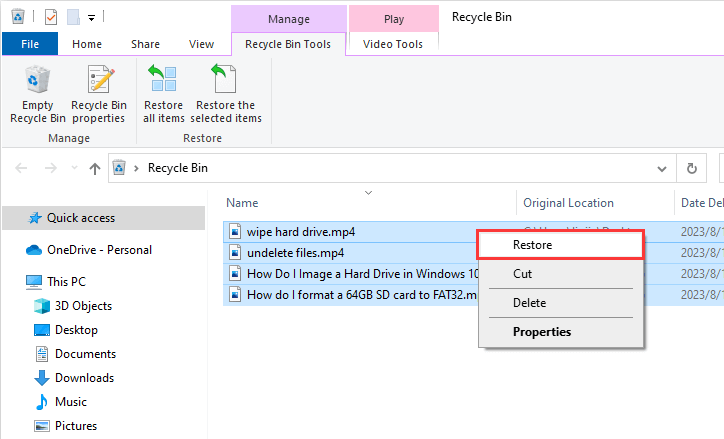 Method 2: Recover permanently deleted videos and other files from a previous backup
Windows provides backups options to help users protect data safely, such as Backup and Restore, previous version. If your computer has enabled such functions, you can try recover deleted videos from previous backups.
Way 1. Recover data via Windows Backup and Restore
Step 1: Type "control panel" in searching box to open system Control Panel.
Step 2: Click Backup and Restore (Windows 7) link under System and Security.
Step 3: Click Restore my files and you can follow the onscreen wizard to complete the restore process.
Way 2. Restore data from File History backup
Step 1: Locate and right-click the folder from which you accidently deleted video files and choose Properties option.
Step 2: Click Previous Versions tab and you can view file history backups available for recovery.
Step 3: Select one you want to restore and click Restore button.
Method 3: Retrieve lost video files from Cloud drives
Cloud drives, such as Google Drive, Dropbox, Microsoft OneDrive, and others, offer a convenient solution for storing, backing up, and sharing data. They allow users to upload, view, and download files through web-based, desktop, and mobile applications. By storing files on cloud storage, users gain the ability to access their files from anywhere with an internet connection.
If you have previously backed up your files to a cloud drive, retrieving them after accidental deletion from your local disk is a straightforward process. Simply access your cloud drive and restore the deleted files from the cloud storage. This ensures that your important data remains safe and easily accessible, even if it is accidentally deleted from your device.
Method 4: Recover deleted videos from PC using data recovery freeware
Video recovery software can recover permanently deleted videos as well as recover lost video files from formatted or corrupted drives. It is quite common that many users do not keep backups, which means restoring lost files from backups does not work. In this case, a third-party video data recovery tool is the recommended solution. Which video recovery software should be chosen? How to use it to recover deleted video files from SD cards, PCs, laptops or mobile phones? Continue reading the rest part of this article and you can find answer in detail.
Video recovery software for PC free download full version
The recommended software of video recovery software for PC free download full version is CuteRecovery Free (formerly known as EassosRecovery Free). CuteRecovery Free is the free edition of CuteRecovery, and it supports to recover permanently deleted files, videos, audio files, emails, documents in Windows 11/10/8/7. This recovery freeware boasts excellent compatibility with a wide range of storage devices, including PC hard drives, external HDDs, memory cards, USB flash drives, and pen sticks. In addition to its ability to recover deleted videos, CuteRecovery Free offers several outstanding features:
Recover data from corrupted and formatted drives: Scan the formatted or RAW drive without affecting original device and files and get back lost files with original names and paths.
Recover lost video and other data from lost/deleted partitions: The "Recover Lost Partitions" feature is provided to restore lost partitions on the same disk. The scanning process looks for partitions instead of individual files via analyzing partition beginning and ending positions and information in partition table. Once a partition is found correctly, all data inside this partition will be restored at the same time.
User-friendly interface: An intuitive interface comes with the software, making the recovery an easy task for beginner users. After launching the software, you just need to select a scanning mode, choose the drive to scan and copy found files to a safe location.
Preview files during and after scanning: File preview is a great way to make sure if wanted files can be recovered correctly in the end. CuteRecovery Free provides two ways of preview files: the thumbnail and original file content.
Deleted file recovery software free download full version is available now, free download it and get back deleted videos, photos and files now.
How to recover permanently deleted videos from PC in Windows 11/10/8/7 FREE of charge?
This section includes a step-by-step guide of recovering permanently deleted videos from PC in Windows 11/10. This recovery method also works on other storage devices such as SD carda, external hard drivea, USB flash drivea, digital cameraa, etc.
Note: Deleted file recovery does not work on SSDs due to TRIM technology. If you want to recover deleted data from SSD, then do not count on data recovery software.
Step 1 Download, install and open CuteRecovery Free (formerly known as EassosRecovery Free) on your computer.
Remember to connect your storage drives to PC in case that you want to recover files from removable drives. Make sure they can be detected by computer, otherwise the recovery software won't be able to search for lost data.
Step 2 Select a scanning mode.
CuteRecovery Free has 4 recovery options and each option can deal with a group of similar data loss issues. For example, "Recover Deleted Files" option is capable of recovering files lost due to Shift Delete, empty Recycle Bin, Cut and Paste, Virus, etc.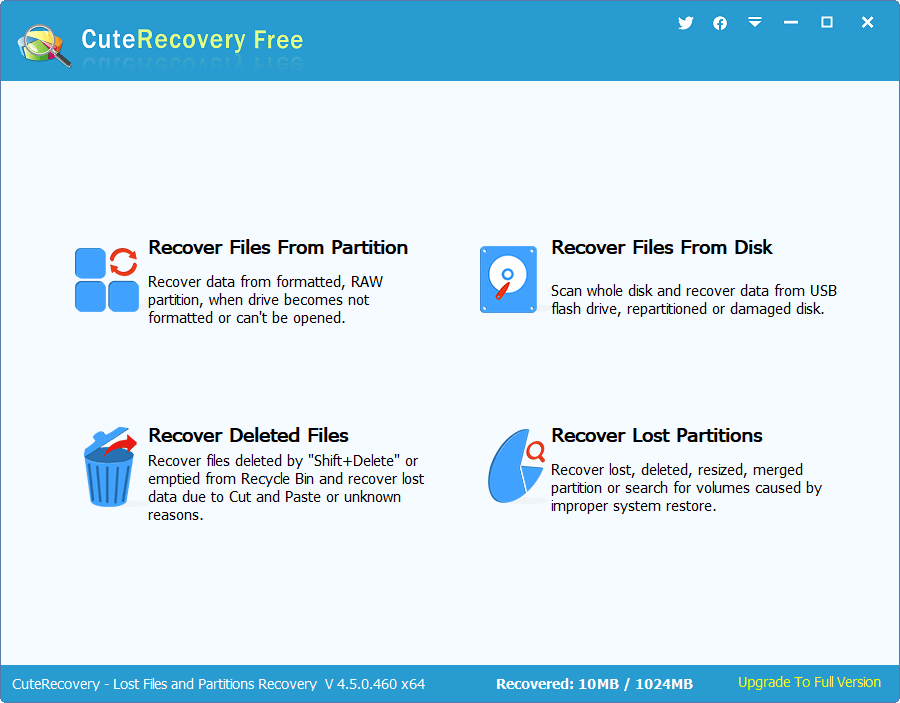 Step 3 Choose a drive to scan.
You should be very clear where your deleted videos were stored. Select that drive and click Next to scan it. Wait for the scan to complete.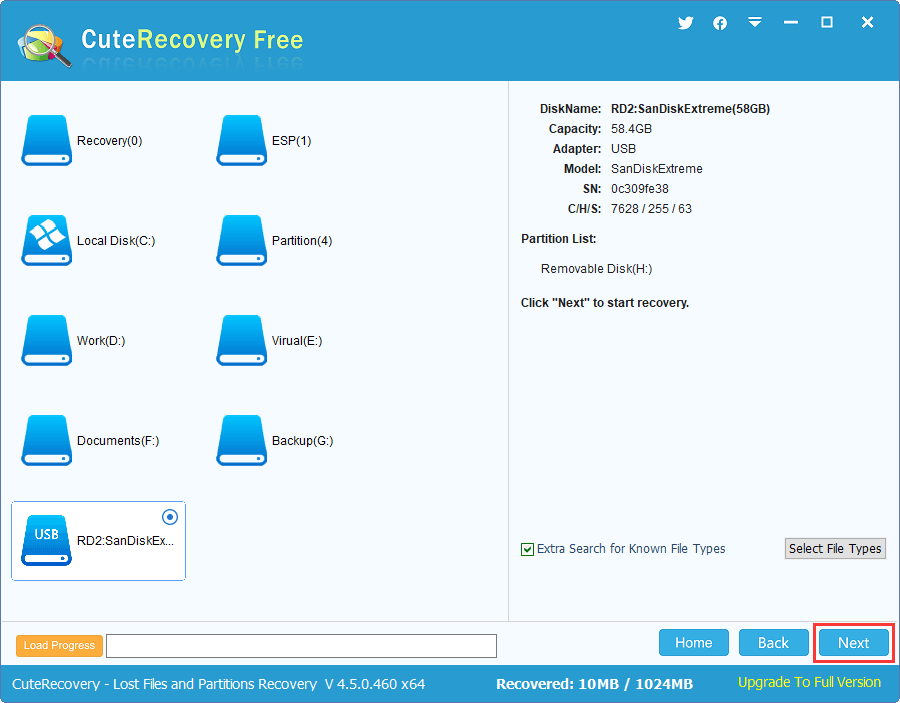 Step 4 View recoverable files and check if they are correct.
Users are allowed to preview found files to see if they are corrupted before final recovery. Video file preview is supported, helping users to check recovery quality.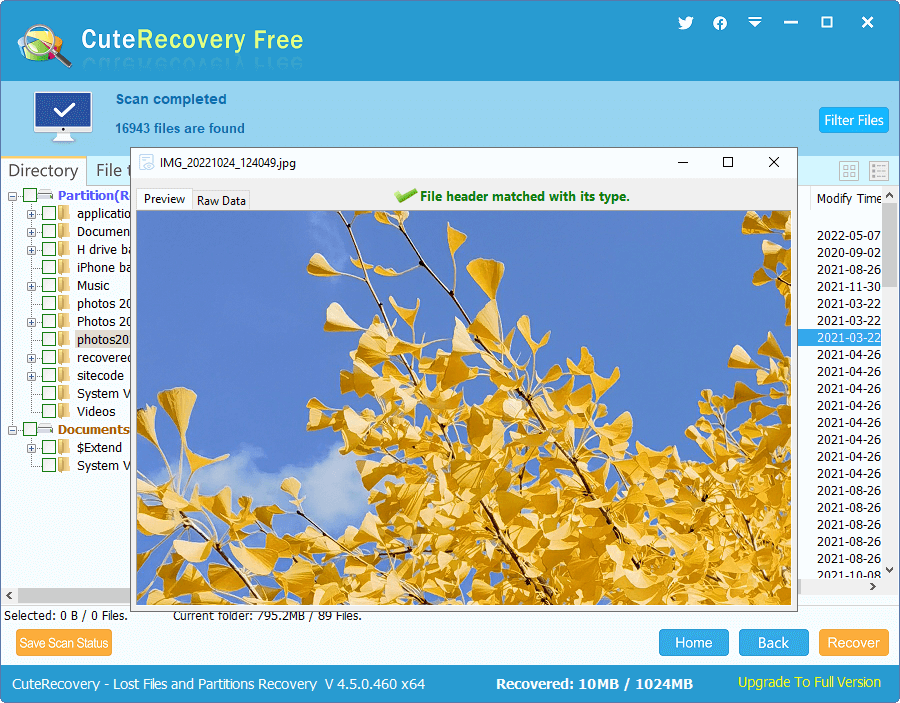 Step 5 Copy found files to a different drive.
Select files and folders you want to get back and click Recover button, and you can specify a safe place to store recovered data.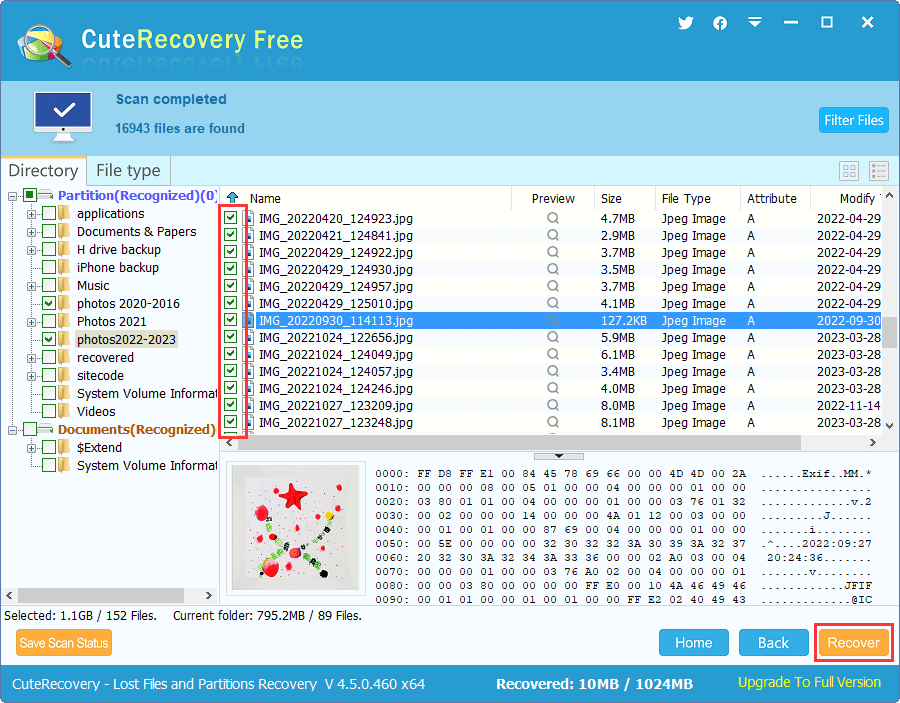 Video recovery FAQs
1. How to recover deleted videos from Android phone with computer?
To recover deleted videos from an Android phone with computer, you can first look for them in Recycle Bin or backups. If you have no luck with Recycle Bin or backups, you can try recovery software such as Eassos Android Data Recovery to search for lost and deleted videos.
2. How do I recover permanently deleted videos from laptop?
A couple of methods can be used to recover permanently deleted videos from laptops or desktops, such as restore data from Recycle Bin, recover files from backups, use third-party recovery software. For step-by-step guides, please refer to this page: How to recover deleted files from PC in Windows 11/10/8/7?
3. How do I undo Shift Delete for video files?
Video files deleted by keys Shift+Delete are not moved to the Recycle Bin. However, Windows does not completely erase them from the hard drive at once, which makes it possible for deleted video file recovery. Here is a brief summary of recovery process:
Step 1: Install and open file recovery software and run a deep scanning for the partition where you deleted video files.
Step 2: Preview found files to make sure wanted files are found correctly.
Step 3: Copy video files to a different partition.
4. How to recover permanently deleted video files from memory SD card?
There are two methods of recovering deleted SD card files: backups and recovery software. Data backup is always the easiest solution, and yet not all users keeps backups. Then recovery software is the mostly used solution. View detailed steps of SD card video recovery here: How to recover lost or deleted videos from SD cards FREE?
Conclusion
Losing important video files can be a significant loss for anyone, as videos often capture important events and cherished moments. Regardless of the reason behind the loss, it is crucial to take immediate action to recover the videos effectively. If you find yourself facing similar problems, you can try the solutions mentioned above to retrieve your lost videos. Furthermore, it is highly recommended to create regular backups of your important data to ensure its safety and security. By doing so, you can minimize the risk of data loss in the future.
If you encounter any difficulties during the process of recovering lost data or have any further questions, our tech support team is readily available to assist you.