Table of Contents
RAW USB drive overview
"I'd like to ask how to fix a RAW USB flash drive without losing data. It is a 16GB drive with FAT32 file system, and it is RAW now. I tied chkdsk command, but the command is not available for RAW drives. I do not want to format it, as I have important files on this flash drive. Do you have any suggestion to RAW USB flash drive recovery?"
RAW is not a recognized file system type, and it usually indicates the corruption of file system. In Windows, a RAW drive cannot be opened, and reports errors like "You need to format the disk in drive F: before you can use it. Do you want to format it?" "The volume does not contain a recognized file system" "The file or directory is corrupted and unreadable".
Why does USB drive become RAW? The most commonly reason is that file system of the USB drive is corrupted. For example, file system is damaged by virus or improper way of removing from computer, bad sectors. Also, in some case, the issue is triggered by incompatibility with operating system, say, the file system used by the USB drive is not supported by Windows.
When encountering RAW USB drive, Windows will suggest formatting the RAW drive to fix errors in file system, which, however, will remove all data on the drive. Thus, if files on the drive means a lot to you, RAW USB recovery should be carried out in the first place. How to proceed with RAW USB data recovery?
RAW USB recovery: How to recover data from RAW USB drive?
DiskGenius Professional Edition is effective data recovery software for RAW partition recovery. It supports to recover files hard drive, external hard drive, SD card, pen drive, virtual disk and other storage devices which become RAW format or get corrupted or formatted. Users who have not obtained a license code can start with the trail edition/free edition to test if the software works. The free/trial edition can search for lost data from RAW partition as well as allows users to preview files free of charge. Now follow steps below to perform RAW drive recovery for USB disk.
Step 1: Connect the RAW USB drive to your computer and install and launch DiskGenius. In DiskGenius you can find the RAW drive easily.
Step 2: Select and right-click the RAW drive and choose Load Current Partition Intelligently option.
Note: this function can rapidly load files with original names, and it works on corrupted NTFS partition which is not damaged to a very bad extent. If this function cannot load files correctly, then move to Step 3.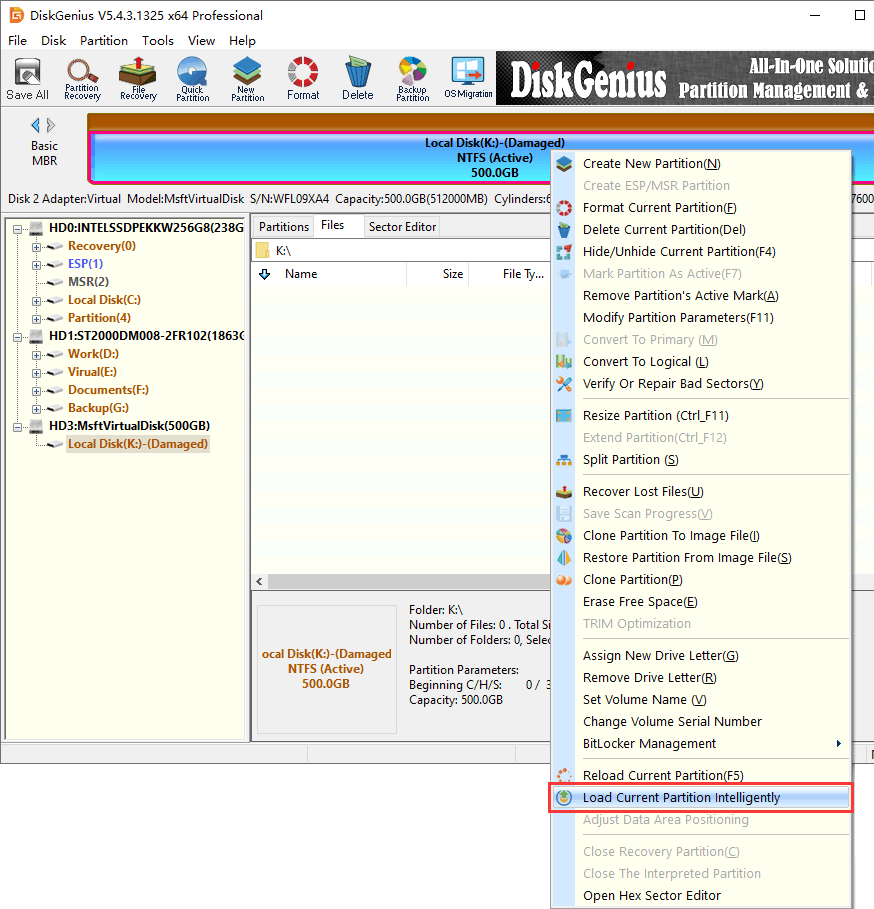 Step 3: Scan the RAW drive using File Recovery feature: select the RAW drive again and click File Recovery button on toolbar. Then click Start button to start scanning process.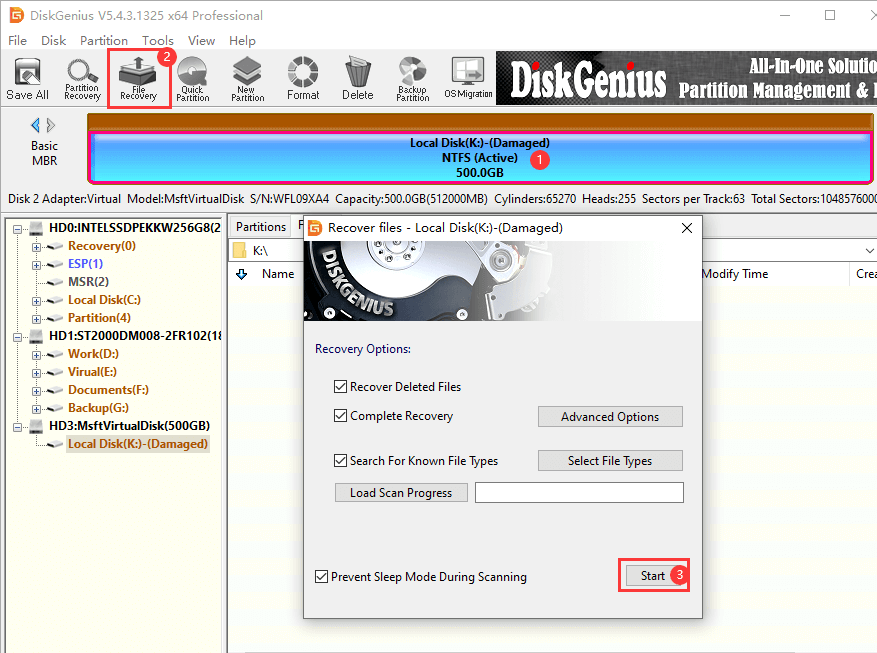 You can view scanning progress and view listed files. And it's OK to stop scanning when wanted files are listed in the software.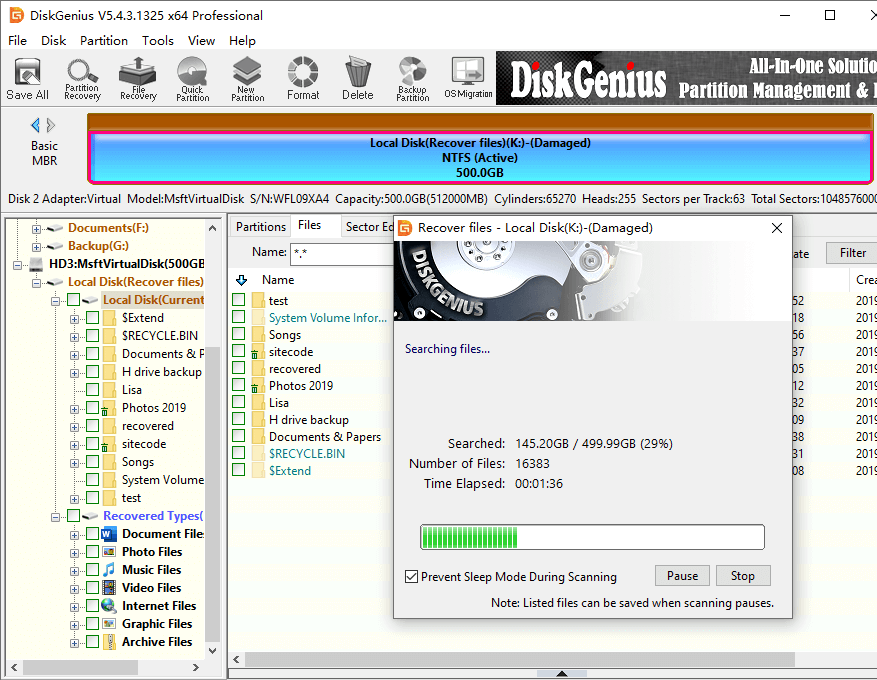 Step 4: Preview files after scanning finishes.
Double-click a file on the right pane and you can view file content on a pop-up window. If the file can be opened in the software without errors, then the file can be recovered properly in the end.
Step 5: Copy files.
After previewing files, you can estimate final recovery. If you are satisfied with what has been found by DiskGenius, you can register it to a proper edition and copy lost files to a safe location. If wanted files are not displayed correctly in the software, then contact the support team to help you improve the recovery. Tech support is provided free of charge no matter whether you've bought the software.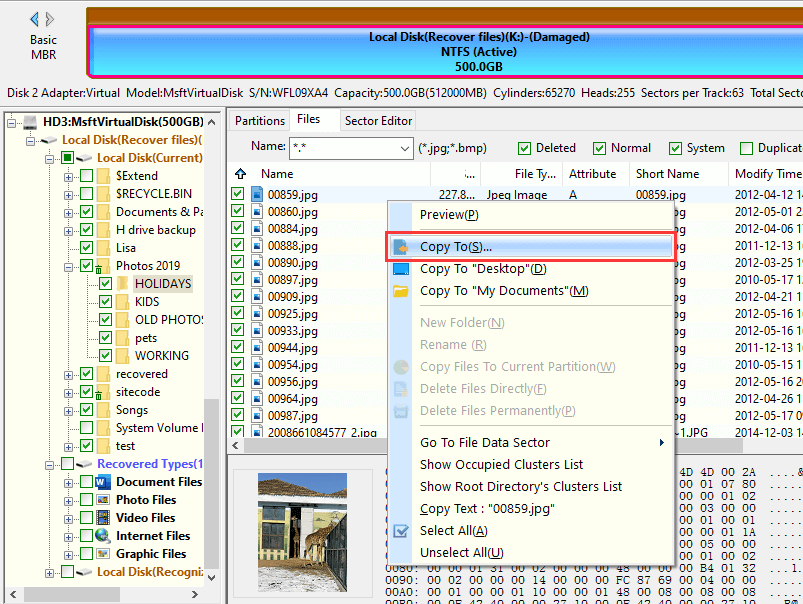 Step 6: Open target folder to view recovered files and check if files are recovered correctly,
Tips to achieve the best RAW drive recovery result
Sometimes, RAW drive data recovery does not works as expected, as the recovery can be affected by many factors. You need to pay attention to following points before you managed to restore all data from RAW USB disk.
Do not format the RAW drive: Formatting RAW drive can make it accessible again, and yet it is of no help to data recovery. What's worse, formatting may make RAW recovery more difficult, for it overwrites original file system.
Do not run disk error checking (or CHKDSK): disk checking is provided by Windows to check and repair errors in file system or disk instead of recovering data. Thus, it cannot cope with RAW drive perfectly all the time, and sometime times it destroys original file system, leading to lost files cannot be recovered with original names.
Do not repairing bad sectors: Repairing bad sectors destroys data permanently, and it should NOT be tried before data recovery.
Questions and Answers Regarding USB RAW Recovery
1. How do I access my RAW drive?
DiskGenius can help you access RAW drive as well as recover files easily and safely, and it does not require users should be a skilled computer user. You can follow steps below to access and recover RAW drives. After RAW drive recovery is done, you can follow this guide to repair it: How to convert RAW to NTFS/FAT32 without losing data?
Step 1: Open DiskGenius > select the RAW drive and click Files tab. If your files are not shown here, then move to Step 2.
Step 2: Click the RAW drive again and hit File Recovery button. Use this feature to scan the RAW drive fully.
Step 3: View lost files and copy them to another drive.
2. How do I fix a RAW USB without formatting?
There are a couple of methods you can try to fix a RAW USB drive except formatting, for example, update drives, run disk error checking (or CHKDSK in Command Prompt), convert RAW to NTFS/FAT32 with DiskPart, check and repair bad sectors, etc. For detailed guides: How to Fix Raw External Drive Without Formatting?
3. How can I recover RAW files from USB for free?
Eassos Recovery Free is free data recovery software and it offers the function of recovering corrupted and RAW drive for hard disk, USB drive, SD card, etc. It is wizard-based interface, making the recovery of RAW USB drive easy to achieve. Tip: if the freeware cannot find what you want, then try DiskGenius Professional Edition which works much better than freeware.
Step 1: Install and run Eassos Recovery Free on the computer where the RAW USB drive is connected.
Step 2: Select Recover Files From Partition option and run a full scanning for the USB drive.
Step 3: Preview files you want to recover and copy them to secure location.
4. Can RAW files be recovered?
Yes, in most cases, RAW data recovery is available without formatting. The RAW drive recovery needs the helps professional data recovery like DiskGenius. Moreover, you need to make sure:
The RAW drive is not formatted or reformatted.
Disk checking or repairing is not carried out before data recovery.
The drive does not have severe bad sectors.
5. How do I recover data from unreadable USB flash drive?
Here are steps you can follow to retrieve data from unreadable USB flash drive:
Step 1: Connect the USB flash drive to computer and make sure it shows up in Disk Management.
Step 2: Open DiskGenius and use File Recovery function to scan the USB drive.
Step 3: Copy files to a safe location.
Sum up
As explained above, it is quite easy to recover files from RAW partition. When USB drive becomes RAW file system, do not format it if there are important files on the drive. You can use DiskGenius to run a complete scanning for the USB drive to look for lost files. As long as your files can be found and previewed correctly in the software, you can recover them to another accessible drive. Once you are sure all files are recovered successfully, you can fix the RAW error and make the drive useable again via formatting.
More tutorials