Table of Contents
Possible reasons for laptop hard drive recovery
No one can avoid these situations 100%. Therefore, you should always be cautious. While there is no guarantee that you can prevent such problems, you can at least increase your chances of success in recovering your laptop's hard drive in such a situation.
How to recover data from laptop hard drive? - Three Methods
Method #1: Using data recovery software to recover laptop data
DiskGenius allows recovery of various devices and storage drives. This includes hard drives, whether from computers or laptops. In short, it is the best choice to solve the current problems. So how to use it for laptop hard drive recovery?
Step 1. Download DiskGenius from official website. Once the software is downloaded, install and open it.
Step 2. In the main interface of the software, you can see the various hard drives on the laptop and the partitions on the hard drives. Select the partition where the data is missing and click the "File Recovery" button on the software toolbar, then click "Start".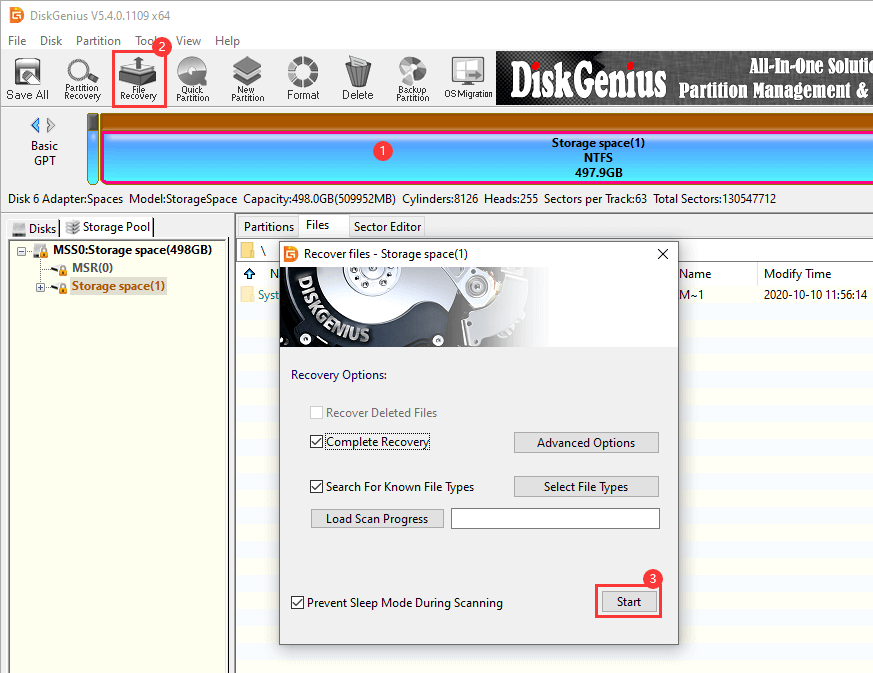 DiskGenius is now scanning the partition to look for recoverable data.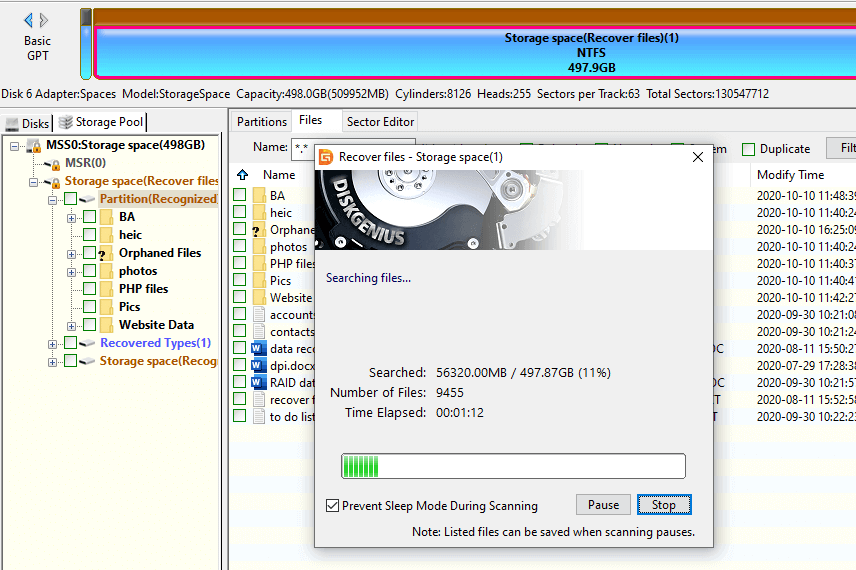 Step 3. Preview files and check the recovery result.
Look for files that need to be restored in the scan result. Double-click a file to open the file preview window. If the content of the file is displayed normally, that indicates the file is not damaged and can be recovered normally in the end.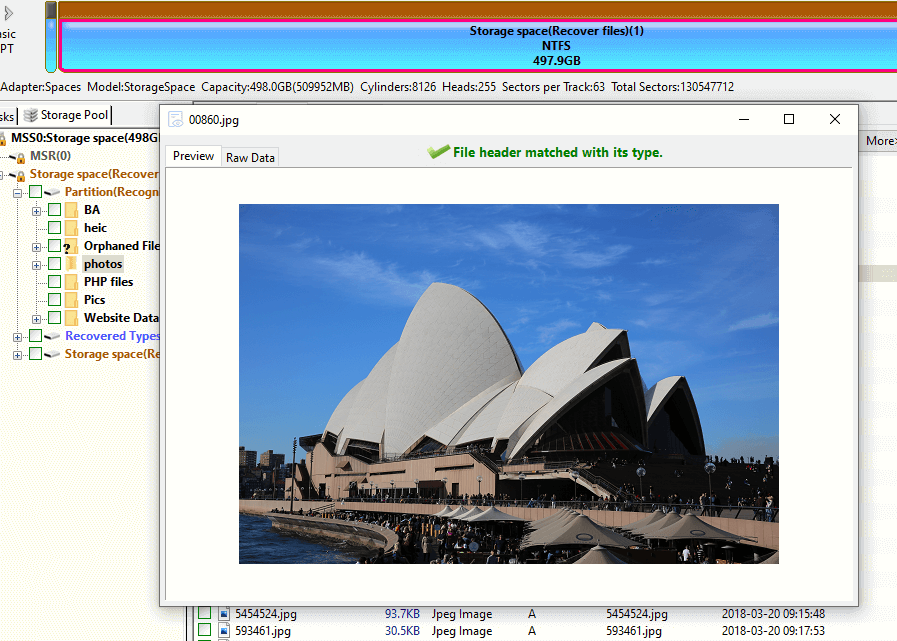 Step 4. Tick the files you want to restore, then right-click them and select the "Copy To". After the files are copied to the specified location, the data recovery task is over.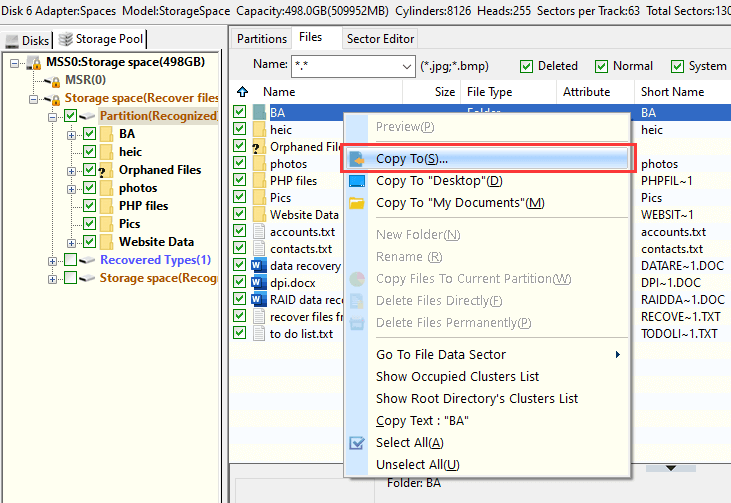 Method #2: Recover lost data through safe mode of laptop
Safe mode is a built-in feature of most operating systems. It can solve most of the small problems on desktop and laptop computers which are unbootable or dead. Most importantly, it allows you to recover files from your hard drive in safe mode.
There are multiple ways to access secure mode on your laptop. If you are using Windows 10, follow these steps:
Step 1. Press Win + R keyboard.
Step 2. Type msconfig on the pop-up dialog box and press Enter.
Step 3. Hit Boot tab.
Step 4. Under "Boot options", select the Safe boot box. Then click OK and Apply.
The next time you reboot your laptop, it will automatically boot your laptop into safe mode. Of course, there are other ways to boot to safe mode, some of which don't even require you to follow any complicated procedures.
In any case, safe mode should at least provide some help in the situation you encounter, and perhaps this will be the way to successfully restore your laptop's hard drive.
Method #3: Restore from backup or cloud space
If you've backed up your data or uploaded it to the cloud drives, you can easily recover your lost data. The most important part of having a Cloud service account is that you can store information whenever you want, as long as you have an Internet connection.
Copying files, on the other hand, may take some time to complete. All you need to do is connecting to a stable Internet connection, and you are free to do whatever you want with the stored information.
What should we do if you realize important data is missing?
Another question you should be thinking about now is what to do once you realize that a data loss has occurred on your laptop, or at least that you need your laptop's hard drive to recover.
Here are some tips on what to do when we know that data has been lost:
1. Avoid moving, replacing, deleting or modifying files in any way on your laptop.
2. Shut down servers on the current laptop that may be saved on any platform, so please close the Internet connection.
3. Do not attempt to format the problematic hard drive.
4. If possible, avoid using the laptop. This will ensure the highest level of successful hard disk recovery on the laptop.
5. Restore your laptop's hard drive as soon as possible.
How to prevent laptop data loss?
The above is the solution to recover data from laptop. When you encounter similar problems, don't panic, just follow the method in this article and you can get back lost files easily and safely.
1. Backup the hard disk data regularly
Data backup is the best way to protect your hard drive from data loss. Because the data stored on the hard disk can be suddenly lost for a variety of reasons, it is recommended to regularly back up the important data on the laptop hard disk to other external disks.
2. Use anti-virus software to prevent virus infection
If a laptop is infected with a virus, the files in it may be at risk of being lost or damaged, so using anti-virus software is an important way to prevent the loss of data on the hard drive. However, it is important to keep your antivirus software updated in a timely manner, otherwise it will affect its best use effect.
3. Put the laptop in a dry, dust-free environment
The hard disk is the most vulnerable part of the computer, when the computer inhaled more dust or water, may cause the hard disk failure. Therefore, it is recommended that you keep your laptop in a dry and dust-free place no matter whether you use it or not.
Conclusion
According to the above tutorial, you can master at least three ways to recover files from your laptop hard drive. Safe mode is a simple way to get data from a crashed or dead laptop. If safe mode is not available, you can try third party software -DiskGenius, which is another easy and secure option.
Related Pages