Accidently deleted important files from SD card
SD card is a kind of device which can store many types of files. It is not only very easy to use but also has large storage space. Many devices use SD cards as storage tools to store photos, videos, documents, audio, and other types of data. There is no doubt that SD card has become an important part of many electronic devices. SD card provides us with great convenience. However, when using it, there are also a lot of problems making us in huge trouble. For example, when we use SD card, we may delete some important files that we do not want to delete by mistake. So, whether deleted files can be recovered from SD card?
Generally speaking, as long as the deleted files haven't been overwritten, there is possibility to recover them successfully. After we delete some files from SD card, although these files cannot be seen in SD card, they are not actually erased from SD card. As a matter of fact, the system only deletes files from file records, but file data part still exists in SD card being invisible. Before new data is written in the sector that deleted files occupy, the deleted files can be easily stored if you want. Therefore, if you need to recover deleted files, please stop storing any new data in SD card at once. Only in this way, can there be chance for deleted file recovery. Since we have known that the deleted files can be recovered from SD card, what should we do to recover them?
How can I recover my deleted files from SD card?
To recover deleted files from SD card, recovery software is the best and convenient choice. DiskGenius is a kind of recovery software which is recommended by many people because of its professional features and great data recovery results. Not only can it recover data from SD card, but it also can recover files from other devices such as hard drive of computer, external hard drive, USB flash drive, virtual disk, Windows Storage Spaces and so on. For data recovery, DiskGenius has special algorithms to search for lost data caused by different reasons. This article will show you how to recover deleted files from SD cards.
Preparation work:
The SD card which needs to recover files
A computer that runs Windows.
The step-by-step guide of SD card recovery
Step 1:Download DiskGenius software from the download page. Then install DiskGenius software and open it on your computer.
Step 2: Connect the SD card to PC.
Connect the SD card to the computer that you prepared. You can use a card reader to get the connection. After connecting them well, the SD card can be shown in your computer. And you can also find it in DiskGenius software.
Note: If SD card cannot be recognized by computer or DiskGenius, you can try to change another card reader or try to use another USB connection port. After that, if you still cannot find the SD card in your computer or recovery software, it is possible that there is physical damage with the SD card. In this condition, recovery software cannot help with recovering data from this SD card. You need to connect technical staff of DiskGenius to check whether the files in this SD card can be recovered.
Step 3: Right-click the SD card and choose Recover Lost Files from context menu.
In DiskGenius, you can easily find the partition which stands for SD card. Also, you can select SD card and then click File Recovery button in toolbar.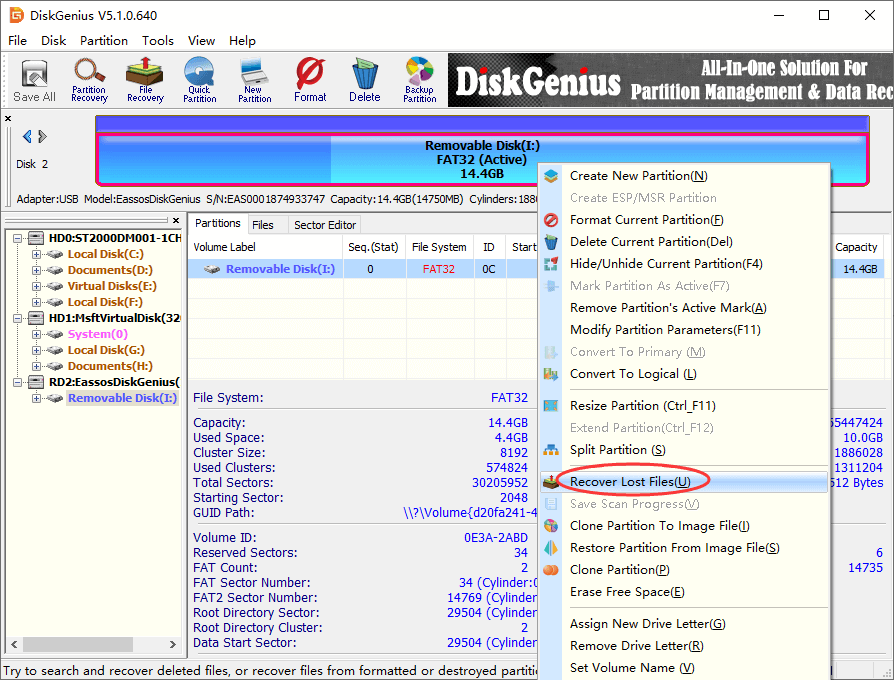 Step 4: Scan the SD card to look for lost files.
Choose the recovery option that you need in the file recovery window and click Start button. You can select all of the three options so that the software can search the lost data as much as possible. Then DiskGenius will start a complete and deep scanning for the SD card.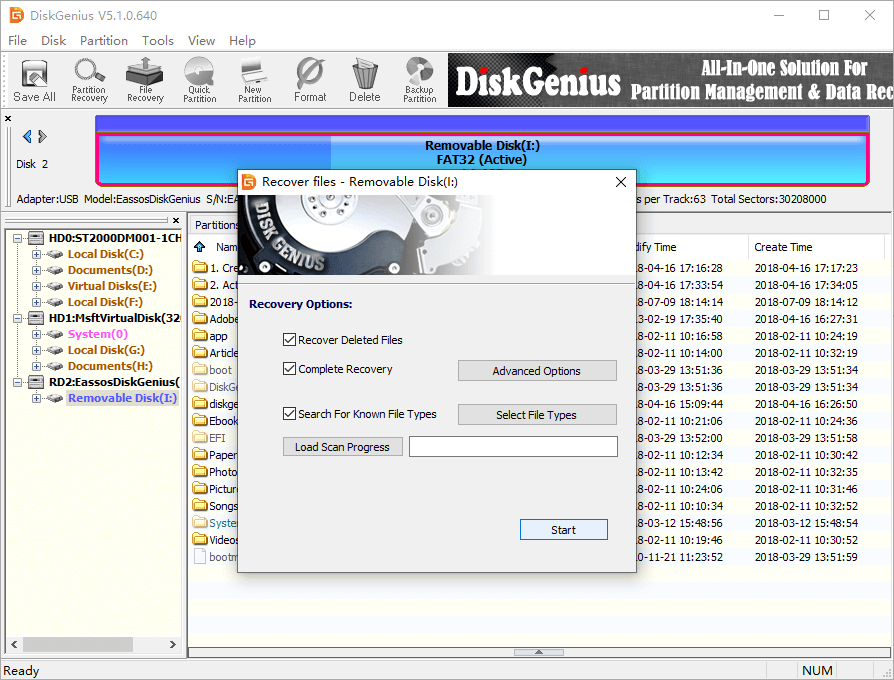 Step 5: Preview lost files.
File preview is a very useful function. It not only helps you find files you need to recover from the scanning result, but also helps to judge whether these files can be recovered successfully. You can open the preview window by double-clicking a file that you want to recover. Then the content of the file will be shown. If the file can be viewed normally, it can be recovered successfully. If the files cannot be shown normally, it cannot be recovered as it might be corrupted.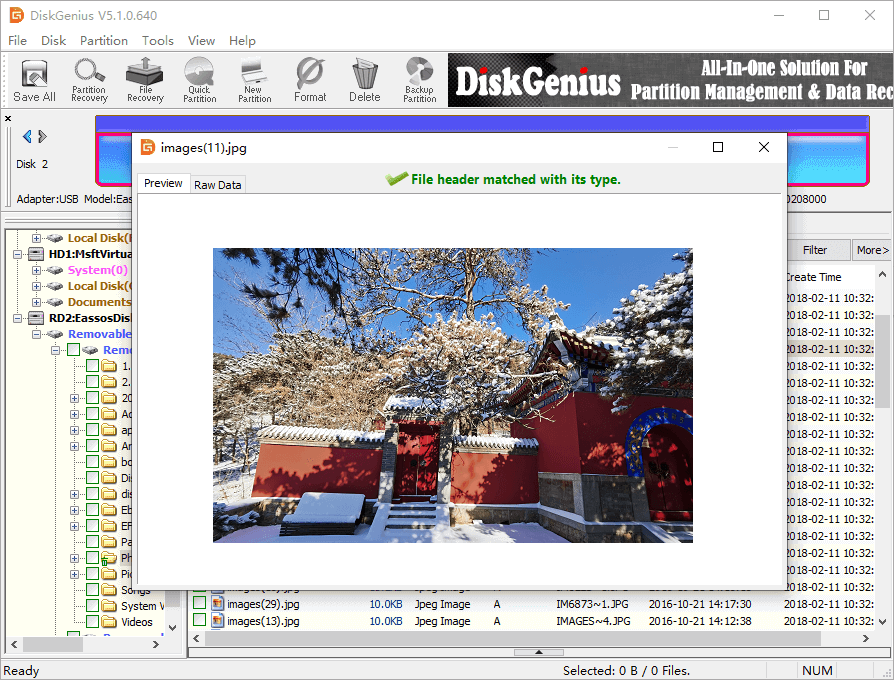 Step 6: Copy the files to a secure place.
Files showing in the scanning result shows what can be recovered, and you need to copy them to another position to finish the recovery process. Please choose the files that you want, and right click the mouse to choose Copy To. Then you can copy these files to a new position in computer.
Note: Please do not copy the files that you want to recover to the SD card that you are recovering data. Otherwise, lost files will be overwritten.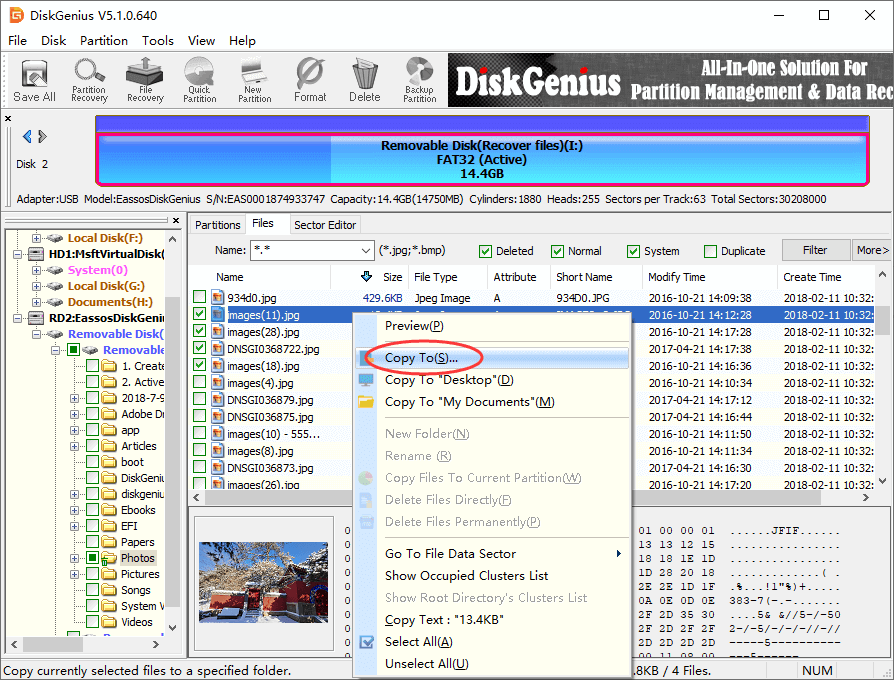 The do's and don'ts about SD card recovery
When recovering data from SD card, there are some points needing to pay attention in order to get a good recovery result.
1. When finding there are lost data in SD card, please stop all the operations to the SD card. This can avoid damages to the lost data.
2. Please choose professional recovery software to recover lost files. If meeting problems when using software, contact with technical staff to solve it as soon as possible. Do not try to solve the problems by yourselves if you are not sure what to do.
3. After recovery, please take notice when copying files. Do save lost files to another new position rather than the SD card which has lost data. After making sure all files that you need have been recovered well, you can copy the files back to the SD card.
Conclusion
The above is the method of recovering deleted files from SD card. I believe that all of you have grasped these steps. After reading this article, there is no need for you to spend large amount money in data recovery services for SD card recovery. With the help of DiskGenius, you easily recover lost or deleted from data from SD card on your own at home.
Related topics