Can you convert NTFS to EXT4 without losing data?
"I want to format an SD card to EXT4 file system so that I can use it on my Raspberry Pi. Currently, I do not obtain a Linux system. Where can I get a free tool that can format to EXT4 format in Windows 10?"
Both NTFS and EXT4 are widely used file systems. NTFS is most commonly used by Windows 10/8/7/Visa/XP, and EXT4, the most recent version of EXT, is used by Linux Kernel. Although your computer is running Windows 10, you are still possible to use EXT4 file system, such as install Raspberry Pi, dual boot computer with Windows10 and Linux, etc. Windows does not natively support EXT4, and EXT4 partitions are not shown in Windows File Explorer. So is it possible to convert a NTFS partition to EXT4 in Windows 10? Yes. Although Windows does not provide a NTFS to ext4 converter, we can make the conversion with the help of third-party software such as DiskGenius. DiskGenius is free disk partition software used under Windows, and it provides full support to EXT4, EXT3 and EXT2. Key features:
Create and format EXT4/3/2 partition.
Read/write data to EXT4/3/2 partition.
Change size for EXT4/3/2 partition, such as resize/split/extend partition without losing data.
Clone EXT4/3/2 partition.
Recover deleted, formatted or lost files from EXT4/3/2 partition.
How can I convert NTFS/FAT to EXT4 without losing data in Windows 10?
IMPORTANT: Formatting/reformatting will erase all data on the partition. If you want to keep data on the partition to be formatted, back up files to somewhere else in advance. After the NTFS partition gets formatted to EXT4, you can use DiskGenius Professional Edition to copy files backup to EXT4 drive.
Step 1: Free download and install DiskGenius Free Edition on your computer. Then launch the software and locate the partition you want to format to EXT4.
Step 2: Right-click the partition and choose "Format Current Partition" item from context menu.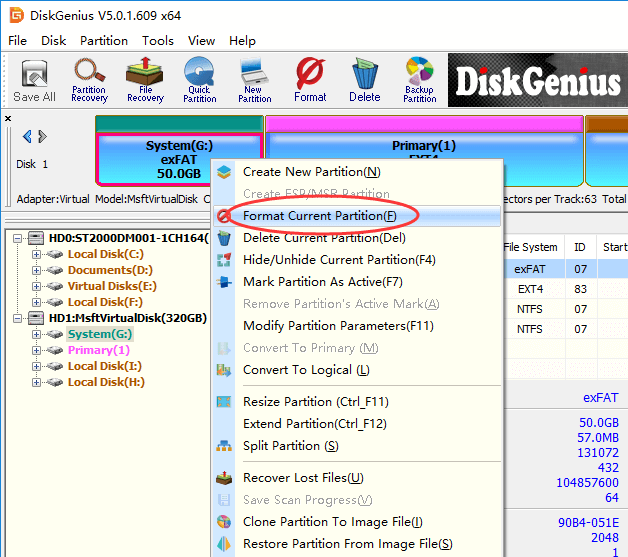 Step 3: When the Format Partition(Volume) dialog box appears, you need to EXT4 from given file system list. Then click Format button. Before clicking Format button, you can also change cluster size, volume label, etc.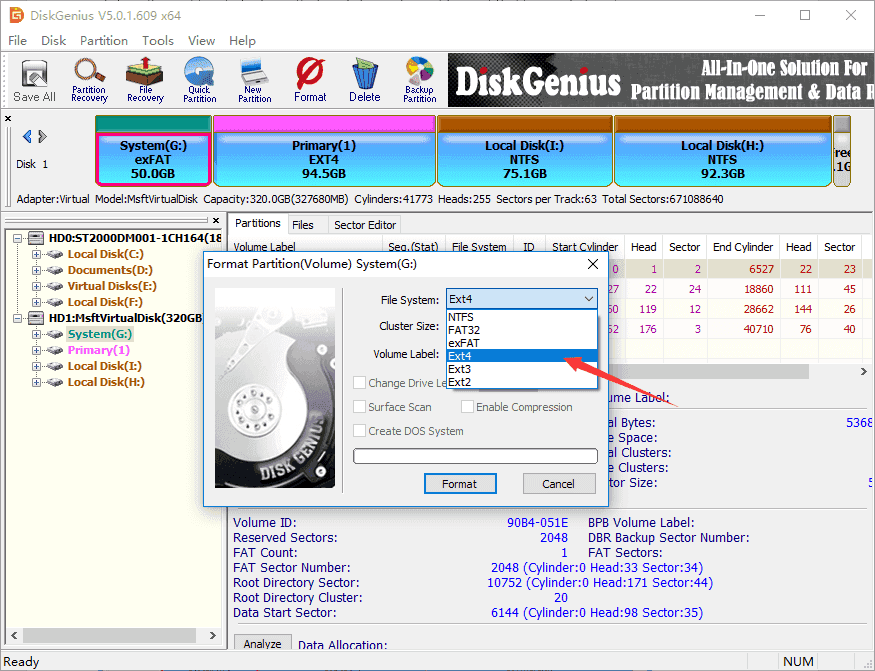 Step 4: Click Yes to confirm the operation. Then DiskGenius starts to format the drive. Wait for a while and the partition will be formatted to EXT4 successfully.

Bonus tip: How to perform EXT4 data recovery in Windows 10?
Files stored on EXT4 drive may get lost if you do not back up them on a regular basis, for example, accidentally delete important files, partition gets corrupted, format/reformat a partition mistakenly, EXT4 partition gets lost, etc. If you encounter similar issues, immediately start data recovery with DiskGenius. Here are two methods on EXT4 Data Recovery in Windows 10 :
I. Recover lost data from EXT4 drive after deleting or formatting
Step 1: Run DiskGenius, select the EXT4 drive from which you want to recover lost data and click File Recovery button. After Recover Files dialog box pops up, click Start button to search for lost fata.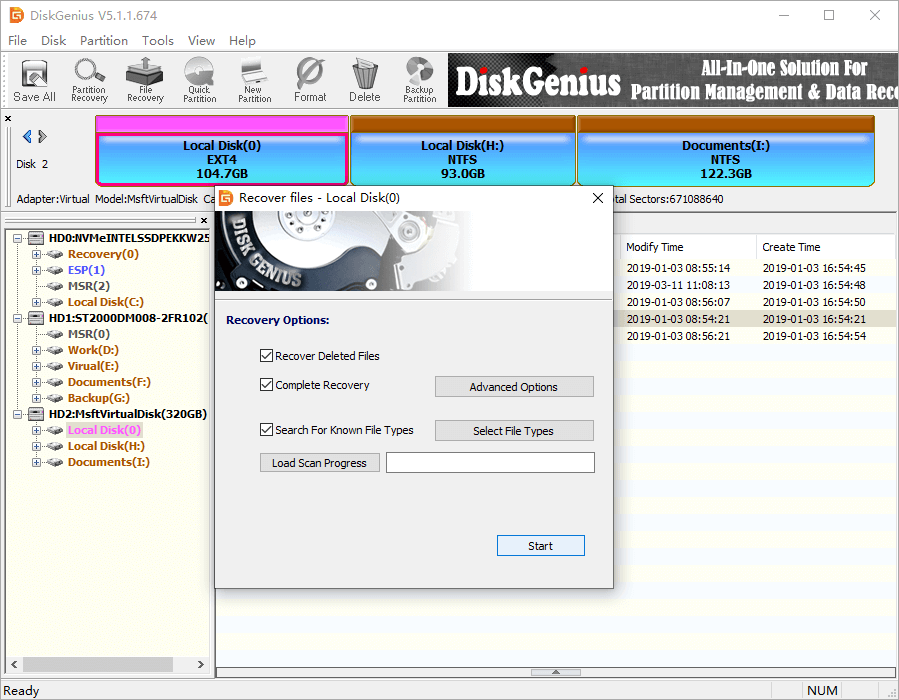 Step 2: Preview lost files after scanning completes. The file preview feature is available no matter whether DiskGenius is registered or not, thus you can examine if wanted files can be recovered correctly in advance.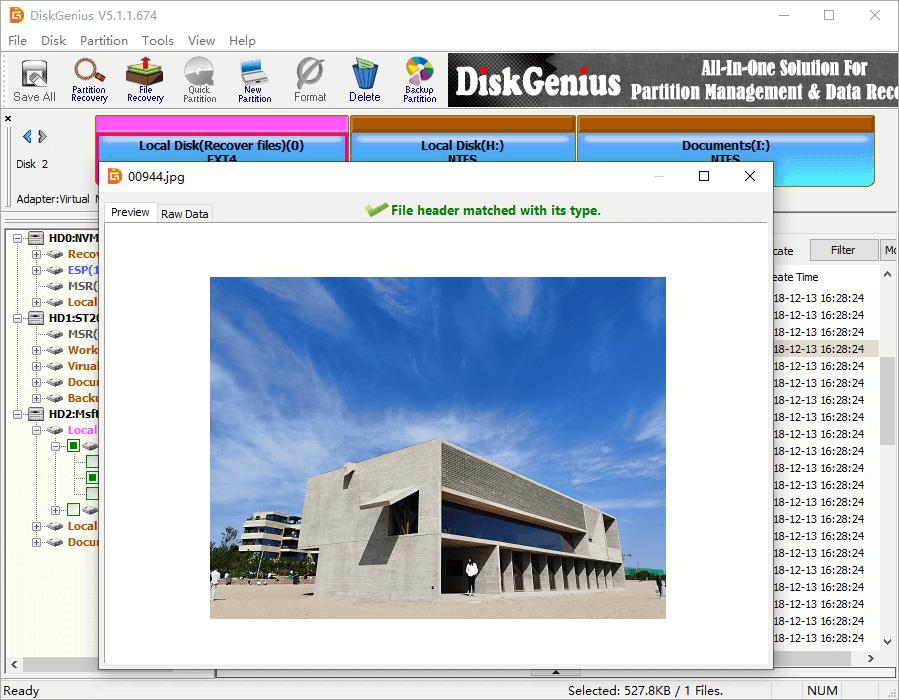 Step 3: Select files you wish to recover and copy them to a secure location.
If you are satisfied with the scanning result, you can register DiskGenius to Professional Edition and then copy lost files to a safe place.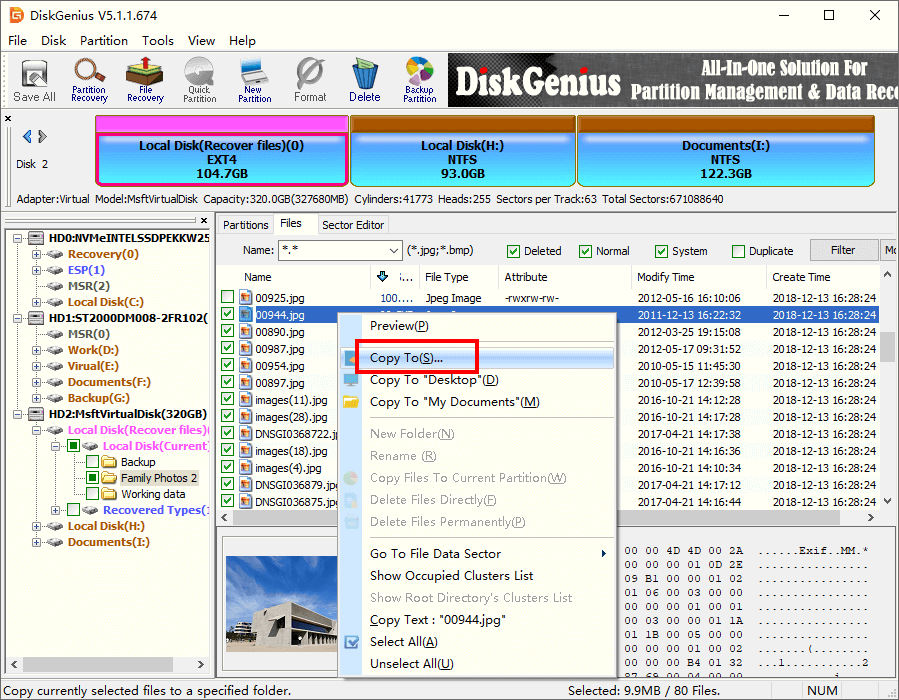 II. Recover deleted/lost EXT4 partitions
This guide applies to recovering deleted and lost partitions and lost/deleted partitions here can be NTFS/FAT32/exFAT partitions, EXT4/EXT3/EXT2 partitions and BitLocker Partitions. When DiskGenius finds out lost partitions, you can either save them to current partition table or copy lost files to another disk. Here is how to search for lost/deleted partitions:
Step 1: Select the disk where missing partition were located and click Partition Recovery button. Then click Start button on the pop-up windows, and DiskGenius begins to search for lost partitions.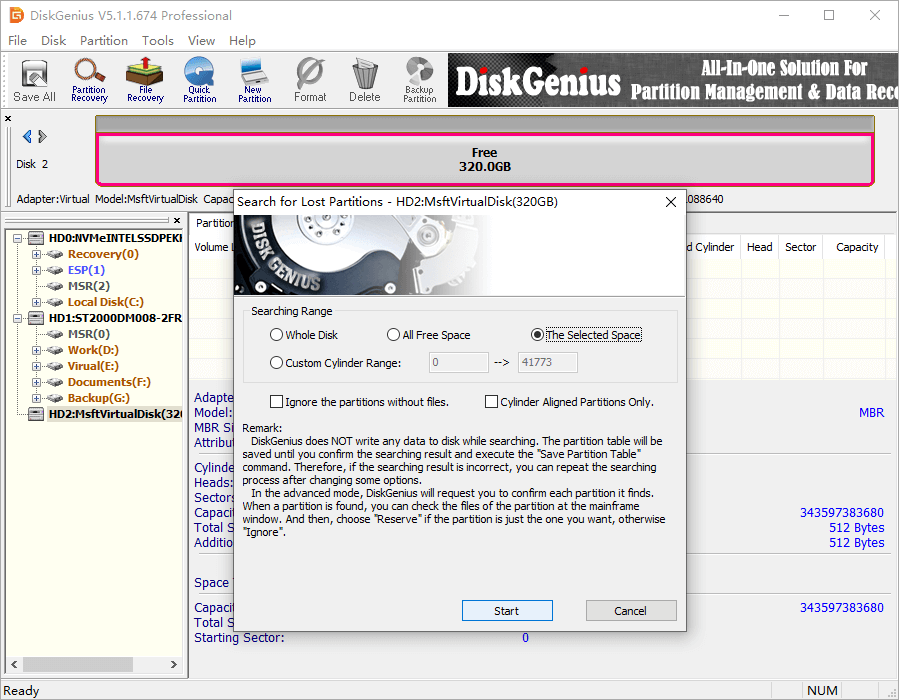 Step 2: Reserve partitions you want to restore and Ignore incorrect partition.
You can easily decide whether a found partition is correct via previewing files. Choose Reserve only when the partition is the one you want to restore.
Note: Partitions reserved here are kept in memory temporarily instead of being saved to partition table. Thus, it is safely to reserve a wrong partition.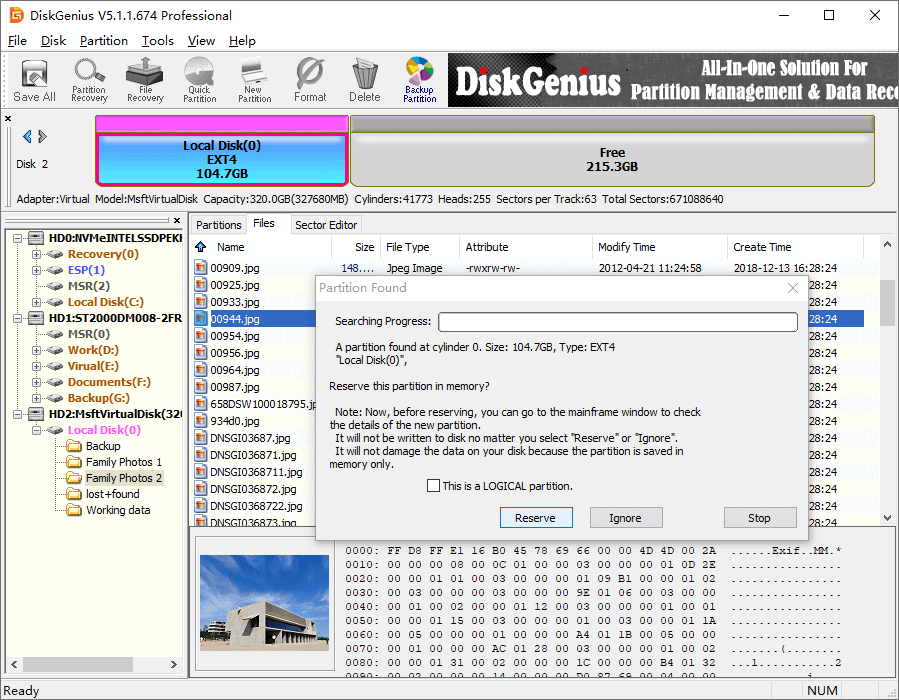 Step 3: Click Save All to save lost partitions to current partition table (or copy wanted files to another hard drive).
FAQs on formatting ext4 Windows
1. Is EXT4 better than NTFS?
EXT4 and NTFS are two different file systems and applied by different operating systems. Both have their own merits and demerits. Some users deem that EXT4 file system is faster than NTFS when performing various read/write operations. But some users think NTFS offers improvements in reliability. As to most average users, we just need to make the decision on operating system instead of file system. When you install Windows, you will use NTFS; if you choose Linux, then EXT4 will be your default file system.
2. Can you convert NTFS to exFAT without losing data?
Normally, there is no way to directly convert NTFS to exFAT without losing data. You need to make the conversion via formatting which removes data. Hence, if you do not want to lose files stored on the NTFS drive, you should backup up these files to somewhere else, then move them back after formatting NTFS to exFAT.
3. Can NTFS be read by Linux?
Yes. Linux can read NTFS drives using the old NTFS filesystem that comes with kernel, provided that the kernel is built without disabling the feature. If you want to write NTFS drive in Linux, some plug-in or program should be used.
4. Can Windows 10 read EXT4?
EXT4 is the file system type used by Linux operating system and it is not supported by Windows by default. Thus, Windows 10 cannot recognize EXT4 partition as a generic volume and cannot open it in Disk Management or File Explorer. However, you can use DiskGenius to read and access EXT4 data on Windows 10/8/7/XP with ease.
5. How do I access EXT4 in Windows?
Since Windows does not support EXT4 file system, and EXT4 drive cannot be accessed or mounted in Windows File Explorer. If you want to access data of EXT4 partition in Windows, third-party software is needed. DiskGenius provides an easy solution, helping you fully access EXT4 drive in Windows, including read EXT4, write data to EXT4 drive, resize/clone EXT4 drive, as well as recover lost data. For more details, refer to this guide: How to access ext4 partition and data in Windows 10/8/7?
6. How do I get EXT4 on Windows 10?
On Windows computers, EXT4 partition cannot be created using Disk Management or Diskpart commands. To get an EXT4 partition, you need to use third-party partition manager such as DiskGenius. With DiskGenius Free Edition, you can either create an EXT4 partition on unallocated disk space or format an existing NTFS/FAT32/exFAT partition to EXT4.
Verdict
EXT4 is the default file system of Linux operating system, and Linux users can format a partition to EXT easily with GParted. If you want to change file system from NTFS to EXT4 on a Windows computer, then use DiskGenius Free edition to do the job. Moreover, you can also try DiskGenius Professional Edition to fully access EXT4 drive, such as read/write EXT4 data, recover data from EXT4, etc.
More EXT4 Resources