Table of Contents
Scenarios that you need to recover photos
"Hi all, I'm trying to recover files from a faulty Western Digital My Book Live which is no longer accessible. It contains around 5000 photos which are the most important files I want to rescue. For the moment, the hard drive can be detected by computer after it is connected via the SATA cable. I am wondering whether I need to take it to some data recovery center. Is it possible to restore files from computer hard drive on my own?"
"Can you recover deleted photos from laptop internal hard disks? These pictures were accidentally deleted two days ago. I have tried several programs to search for lost photos, and yet one of them worked. I am not sure if my solutions were correct, and I am very anxious about whether lost photos have been overwritten. What's your suggestion as to how to recover photos from computer?"
It is definitely a terrible experience that you lose photos that you've taken over the years. In daily life, photos may get lost due to all types of causes like accidental deletion, formatting, partition corruption (RAW drive), virus, bad sectors and so on. What's worse, all of your storage devices including memory cards of your digital camera and Android phone, hard drive, external HDD, USB flash may suffer from photo loss issue. Fortunately, photo recovery software for PC free download full version is available, which can help you restore deleted or lost digital photos from various data loss situations. In next section, we will have a simple discussion regarding the best photo recovery software for PC.
Photo recovery software for PC free download full version
Why choose DiskGenius to recover lost photos?
In term of photo recovery software for PC, DiskGenius is the recommended option. DiskGenius is reliable and advanced photo recovery and disk partition software for both invoice and professional users. When recovering lost photos, it is able to perform a deeper scanning for storage devices, ensuring that you get the best result. Photo recovery process is read-only to original data and storage devices, which guarantees your personal information is kept secure. With the aid of DiskGenius, you can recover lost multiple media files (photos, videos, and audio files), Microsoft Office files, PDF, Text files, archives, etc. from various data loss scenarios with ease.
More features:
Fast speed of searching for lost data: The optimized file scanning algorithms is capable of finding out lost photos and other files rapidly and accurately, and the scanning can be carried out for physical hard drive, virtual disks (.VMDK, .VHD, .VHDX, .VDI, .HDD), attached external disk (external hard drive, USB flash drive, pen drive, SD card, etc.), dynamic disks, Windows Storage Spaces, RAID drives, etc.



Easy to use: The user interface displays disk information in depth, which looks like quite complicated. In fact, the photo recovery process is really easy, and users can breeze through the data recovery task in most cases.



File preview: Either the unregistered or the free edition allows you to preview lost files after scanning finishes. Previewing recoverable photos, videos, documents (TXT, DOC, EXCEL, PDF, PowerPoint, etc.) and audio files prior to finial recovery heps to get a successful and correct recovery of wanted files.
More recovery software is available for free download
The Step-by-step guide: Free download photo recovery software for PC to recover deleted and lost photos
It is safe to say that a successful recovery rests with quite a few factors, and the first move you should make after photos get lost is stopping using the affected device in case of causing further damage to lost data. Then free download photo recovery software DiskGenius and start the recovery as soon as possible. Never install data recovery software to the partition where you want to recover data, otherwise you are likely to overwrite and permanently destroy lost files. Besides, if the disk is suffering from physical damages, for example, computer slows down or even freezes, the disk not showing up in Disk Management, etc., do not try any recovery or repairing by yourself. Contact data recovery experts who will figure out solutions for you.
Now let's have a quick look at how to recover deleted or lost photos from PC, SD card and USB flash drive using DiskGenius.
Step 1: Select the device and click File Recovery button.
First and foremost, you need to choose the location from which you want to recover lost photos. DiskGenius supports to recover data from a wide range or devices, such as hard disk, external hard disk, USB flash drive, SD card, virtual disk (VMDK, VHD, VHDX, VDI, HDD), etc. If the storage device is not listed in the software, you need to contact specialists for help.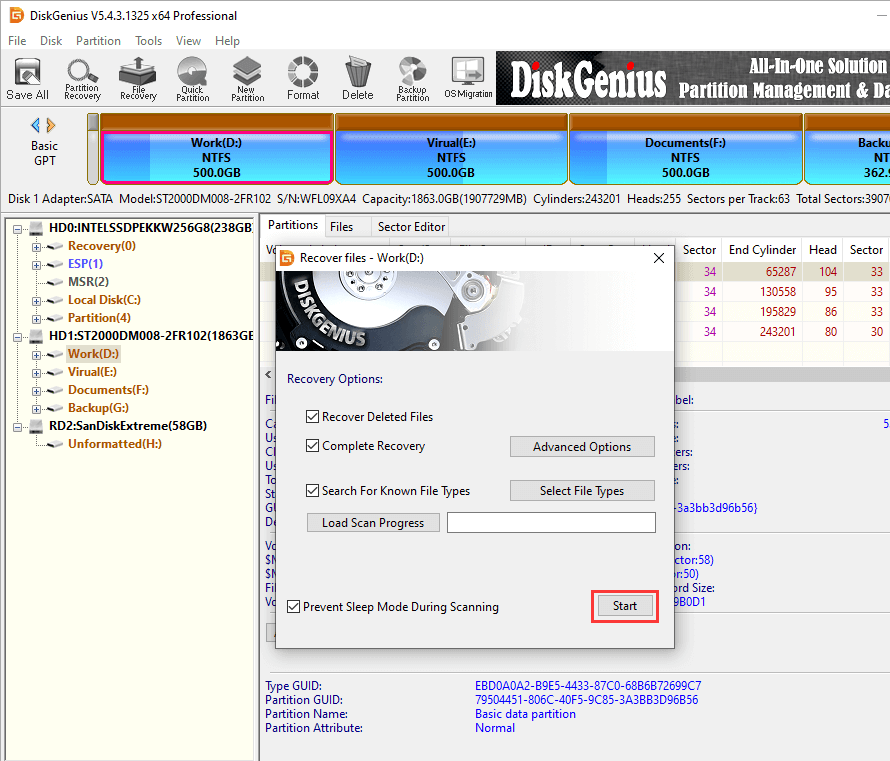 Step 2: Click Start button to search for lost files.
The scanning process will start immediately after clicking Start button. The software will run a full and deep scanning for the drive by default, and you just need to wait for the process to finish. If you want to specify file types for the deep scanning, you can click the option "Search for Known File Types".
The amount of time required for scanning process varies from one to another, as it mainly depends on the speed and capacity of your device being scanned. As you can see in the picture below, it shows scanning progress. Moreover, the software continues to add found files to scanning result.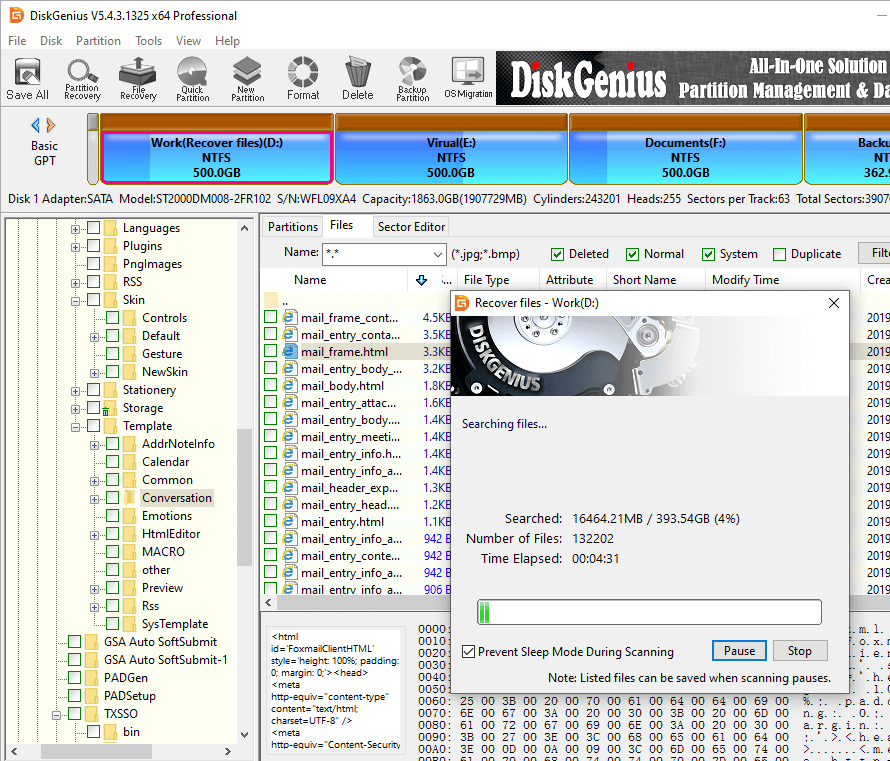 Step 3: Preview lost photos to check recovery quality in advance.
Lost files are displayed in the software during and after scanning, and you are allowed to preview them and check if they are correct. Double click a photo, document, video or audio, and you can view file content on a pop-up window. File preview enables you to know recovery quality prior to purchasing a license code.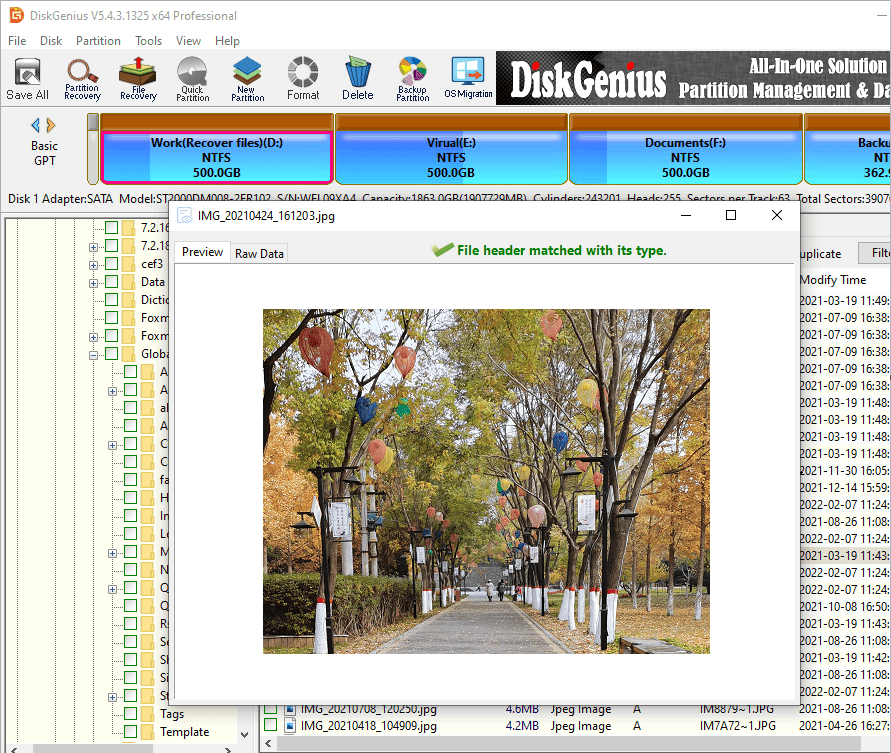 Step 4: Copy photos to a safe location.
Select photos and other files you want to recover via clicking the checkbox to the left of each file or folder. Then right-click those selected files and choose Copy To from context menu. You will be prompted to specify a location to store recovered files. Just choose a location which does not need to recover files and has enough free space to hold recovered data.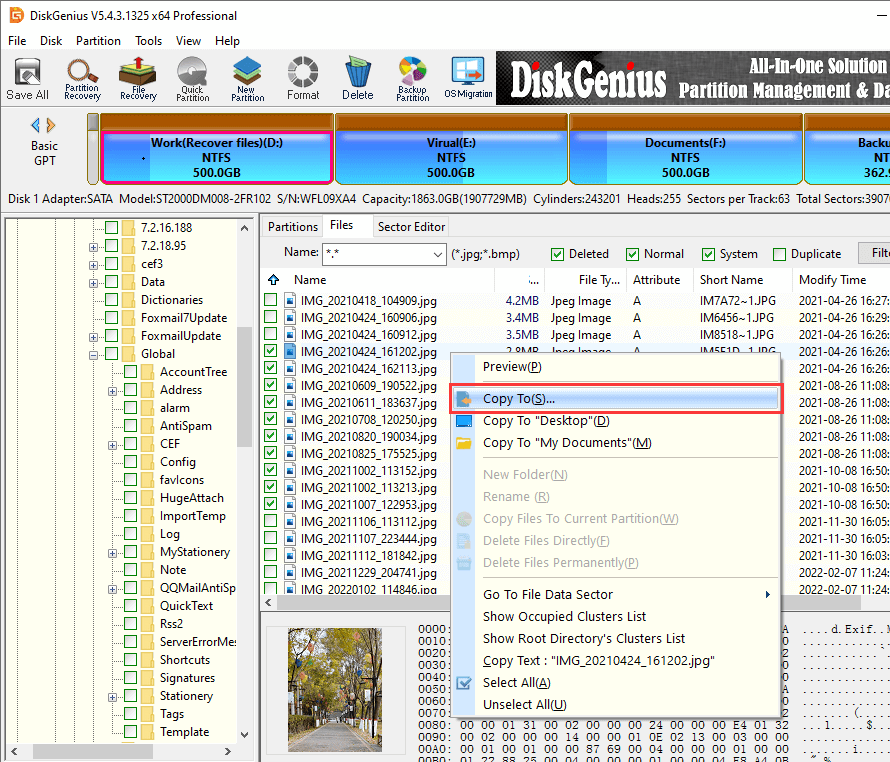 You may also ask
1. What is the best free photo recovery software?
Photos help us reminisce about bygone days vividly, and losing precious photos is never a pleasant thing we want to go through. Fortunately, in most cases, lost photos can be easily recovered in their original quality with the help of photo recovery software. Thus, it is important to get the right photo recovery software prior to looking for lost photos. Here is a list of best photo recovery software for PC: Eassos Recovery Free, DiskGenius, Recover My Files, Recuva, PhotoRec, R-Studio, Stellar Data Recovery, Disk Drill, Remo Recover.
2. How do I recover photos?
There are a few options when recovering lost photos, restore photos from a recent backup, use photo recovery software, hire an expert to recover files, send the storage device to a data recovery company. The recommended way of photo recovery is to use photo recovery software for PC if your storage device is not physically damaged, and no backups are available. Photo recovery software is easy to use, and beginning users will not find any difficulty.
3. Can you recover permanently deleted photos from computer?
In most cases, recovering permanently deleted photos from computer is available, even when photos are deleted by Shift + Delete, or you've emptied Recycle Bin. As long as the storage device where deleted photos were stored is not an SSD or SMR hard drive, and deleted photos haven't been overwritten, you can easily get back deleted photos with the help of photo recovery software for PC. Such software is capable of scanning your disk sector by sector and restoring lost photos.
4. Is there a free photo recovery software?
Eassos Recovery Free is the perfect choice for users who are looking for free photo recovery software. It is the free edition of Eassos Recovery and it supports to search for lost files, preview recoverable photos and copy 1 GB amount of data free of charge. It supports to recover deleted or lost photos from PC, memory cards, USB flash drive, external hard drive, digital camera, etc. in Windows 10/8/7/XP.
5. How can I recover deleted files from my computer for free?
To recover deleted files and photos from computer free of charge, you can either restore files from previous backups or use a piece of free data recovery software such as Eassos Recovery Free. This recovery software has a user-friendly interface which greatly simplifies file recovery process. You just need to go through these simple steps to restore deleted files from computer:
Step 1: Install Eassos Recovery Free to a partition which does not need to recovering files.
Step 2: Run the software and select a recovery mode to search for deleted files.
Step 3: Preview files and copy them to a safe location.
6. How to recover deleted pictures from an SD card or USB drive?
In fact, there is not much difference between recovering files from computer and removable disks like SD card and USB flash drive. In other words, it is equally simple to recover deleted pictures from an SD card USB drive when you choose a reliable and efficient photo recovery program. Here is a brief guidance on how to recover photos from an SD card or USB drive.
Step 1: Connect the SD card or USB drive to computer, making sure it can be detected by Windows.
Step 2: Launch DiskGenius and scan the SD card or USB drive to look for lost pictures.
Step 3: Copy pictures you want to restore to a safe location.
Conclusion
Losing important photos is a nightmare to all of us, and it is useful to learn how to recover deleted or lost photos using photo recovery software for PC free download full version. Whenever you encounter photo loss issues, remember to stop using camera, computer or USB where lost photos were stored. If you just need to recover a small amount of data, Eassos Recovery Free is a good choice. When large amount of data gets lost or the issue is way too complicated, a professional recovery tool such as DiskGenius should be selected.
Related articles